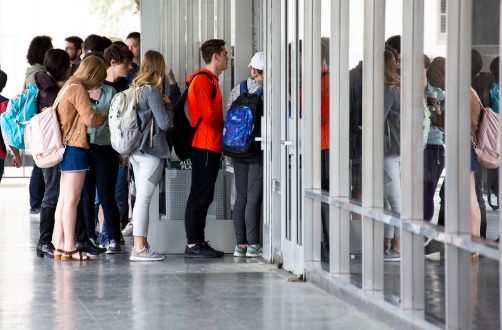 Two new statewide polls are out this week, just before ten Democratic hopefuls take the debate stage in Houston on Thursday.
The new poll from the University of Texas/Texas Tribune looks at Democratic voters and their 2020 primary preferences. The new University of Houston/Univision poll offers insight into voters statewide from both parties, and includes separate polling data of Texas Latinos.
Texas could be a battleground state, in part because of the growing Latino vote
Both the presidential and senatorial races could be competitive in Texas, the University of Houston/Univision poll shows.
47% of Texas voters said they prefer a Democrat for President compared to 42% that favor Trump, according to the poll.
Among Texas Latino voters the president is more unpopular, 69% said they would vote for a Democrat in the next election.
The 2020 election comes as the Latino electorate continues to grow in Texas, which could be a problem for president Trump and other Republicans as a majority of Latinos oppose Trump.
"When we look at Latinos we see a very interesting point in terms of 85% of Latinos saying they will certainly vote or at least probably will vote," said University of Houston political science professor Jeronimo Cortina.
Cortina said polling numbers come on the heels of a dramatic increase in Latino turnout in 2018, especially among young voters.
Warren surpasses O'Rourke, but Biden's still ahead
When Democrats were asked who they would vote for if the 2020 election was held today, Joe Biden was the favorite in the University of Texas/Texas Tribune poll with 26% of votes.
Elizabeth Warren edged ahead of Beto O'Rourke as the number two pick with 18% of the vote, compared to O'Rourke's 14%.
But in the University of Houston/Univision poll, Biden and O'Rourke lead the pack of primary candidates, with 20% and 19% of the vote.
In a match-up between Trump and Democratic candidates, Bernie Sanders performed best against the president in polls.
Texas voters see Trump as hostile towards Latino
Nearly half of Texas voters (45%) view Trump as being hostile towards Latino voters, according to the University of Houston/Univision poll.
Meanwhile, 49% of Texas voters and 67% of Latino voters said race relations are worse since he took office.
"These four issues are equally important in the minds of Latinos: health care, immigrant rights, stopping Trump and combating racism," said Matt Barreto, co-founder of polling firm Latino Decisions.
A Democrat could win against Republican Senator John Cornyn – but voters don't recognize primary candidates
The University of Texas/Texas Tribune poll shows that Air Force Veteran M.J. Hegar would win the Democratic primary election in the race for U.S. Senate if it was held today, with just 11% of the vote.
The University of Houston/Univision poll of Texas voters from both parties found Hegar to be one of the most favorable candidates, along with human rights activist Sema Hernandez and State Senator Royce West.
Both polls indicate that while the Senatorial race against U.S. Senator John Cornyn could be competitive, there's not one well-known Democratic candidate in the field.
The El Paso shooting has left its mark on Texas politics
According to the University of Houston/Univision poll, 69% of Texas Latinos fear another racially-motivated shooting. Meanwhile, half of statewide voters said they fear an attack.
Moreover, 71% of Latino voters said President Trump influenced the El Paso shooter.