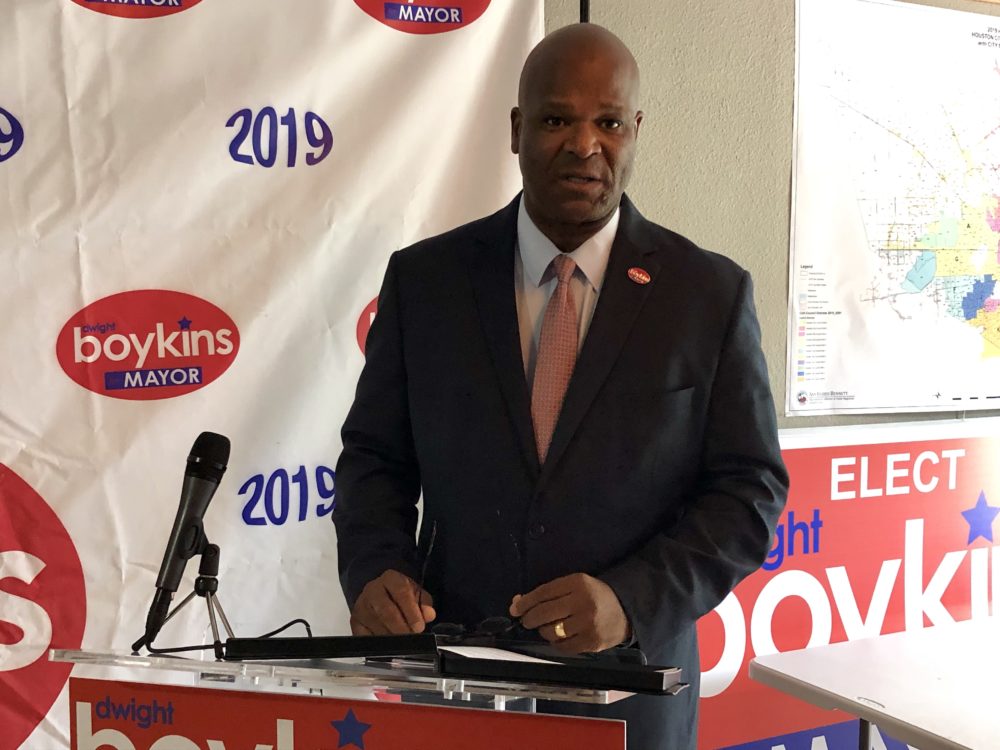 Houston City Councilmember and mayoral candidate Dwight Boykins unveiled his vision for City Hall. One of Boykins' top priorities, if elected, would be resolving the city's simmering pay dispute with the firefighters' union.
Speaking at his campaign headquarters in Houston's Third Ward, Boykins said that the city's inability to achieve pay parity between police and firefighters has less to do with the city's budget and more to do with Mayor Sylvester Turner's willingness to negotiate in good faith.
"So effective January 2020, the Houston Fire Department and the Houston Police Department will start a fair negotiation on pay parity contract," he said. "It will be resolved within 60 days."
Boykins said he would adopt what he called a "zero-based" budgeting model, requiring all departments to justify their expenses before receiving appropriations. He said the resulting savings would be more than enough to provide pay raises for firefighters.
Boykins also vowed to take a much more aggressive approach to enforcing the city's homeless ordinance and cracking down on panhandling. He said he makes a distinction between those who want help and those who don't.
"I have Star of Hope and New Hope Housing in my district," Boykins said. "I'm speaking first hand. I go over and talk to the individuals who want help. And they transition themselves from Star of Hope to New Hope Housing to a conventional apartment. Those are people who want help. But these guys out here trashing our city, I have no mercy for them."
Boykins stressed he'd work with Harris County mental health officials to deal with chronic homelessness, rather than just law enforcement. But he said in the case of those people who are transients, rather than homeless, "we will get them on a bus to get them where they are going."
In addition, Boykins said he would work to accelerate Harvey relief and flood control funding. Citing his prior experience as a banker, he said would bring together all the major local banks and have them convert the promised federal funding into what amounts to a federally guaranteed loan. That money, he said, could then be distributed without further delays from federal or state bureaucracies.