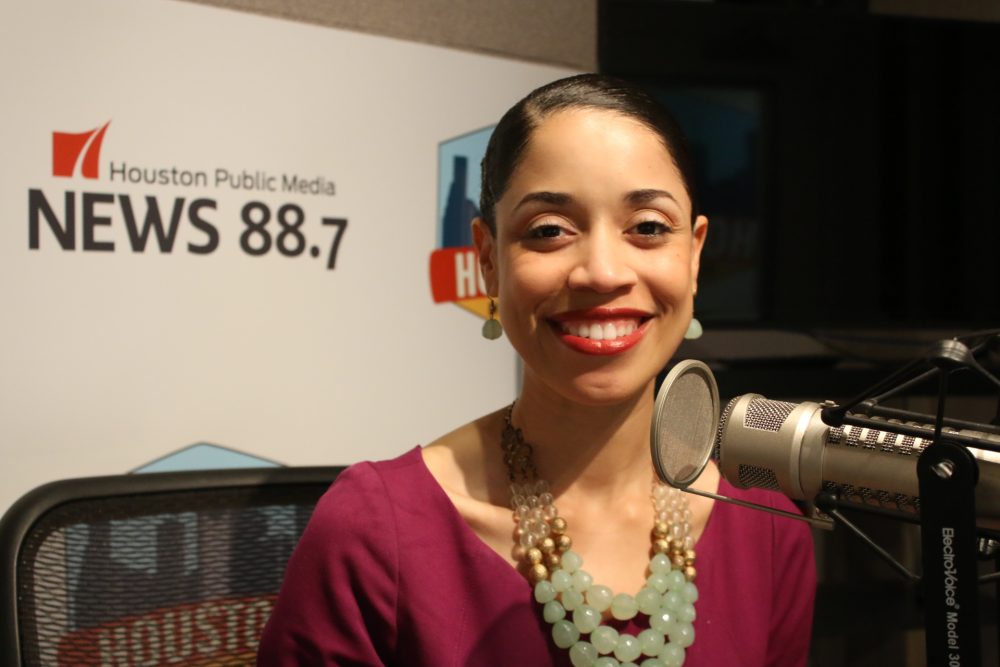 Houston City Councilwoman Amanda Edwards announced Thursday morning she is joining the race for U.S. Senate, challenging Republican incumbent John Cornyn and several Democratic candidates.
Edwards announced her campaign for the Senate seat with a video posted to Twitter and an appearance on CNN. In an interview with Houston Public Media's Davis Land, Edwards discussed her priorities, were she to be elected, as well as her plans for the rest of her term on City Council.
This race is about all the people who've ever been locked out, told they can't, or to wait their turn because the status quo wasn't ready for change. Join the team at https://t.co/CT7W1NJQvB. pic.twitter.com/XjQp09nsJg

— Amanda Edwards (@AmandaForTexas) July 18, 2019
You said on CNN this morning that you support an expansion of the Affordable Care Act, but you're not necessarily in favor of 'Medicare-for-All.' What does an expansion of the Affordable Care Act look like to you?
Well certainly you want to have a public option that works, right? We need to be pulling more people in, rather than limiting the size of the pool in which people can be pulled in and provided access to healthcare.
As we know, even though the Affordable Care Act was a great stride toward insuring more Americans, it certainly didn't cover all, and so we want to move in that direction. But, we still want to make sure that people have some of their options. So I think that we need to make sure that people understand and appreciate that we're listening, and when you listen that means sometimes you modify that approach, looking at how we can cut back on some of the negative ramifications of the Affordable Care Act and improve upon it. But the natural fit would be to continue going in that direction, as opposed to a sweeping overhaul. I think that's the best approach because it really reflects what I've heard Americans talking about over the years.
Many Texans and Houstonians are still recovering from Hurricane Harvey, and people have been frustrated with how long it's taken relief funds to come through. If you're elected, how do you plan to address disaster recovery?
Disaster recovery in our nation doesn't have residents or people in crisis in mind. It is a very long, bureaucratic red-tape process that doesn't give people answers when they need them, solutions when they want them and certainly the full recovery when they need it most.
We had Hurricane Harvey strike our region two years ago, and there's so many Houstonians living with bare walls, unfinished walls, unfinished flooring, mold and the like… The problem is that the way disaster recovery is designed, the people are last. And we are very slow-moving in having quick responses to people that make sense, and that also include some prevention and mitigation. Because if you're telling someone, "Here are some additional resources for you to go rebuild your home or repair it," but we're not putting the type of investment in flood mitigation that we need, then why are you better off than you were before that storm? You're basically putting them in the same position or even worse, depending on what their recovery package looks like.
There should be a requirement about how long it takes to promulgate the federal regulations that are associated with these allocations. We had some of these from October of 2017, but because of the delays in actually promulgating the rules, residents just sat there and waited. And that's not keeping the residents first, that's not keeping recovery first and that's certainly not the way that government should function. That is dysfunctional government at best.
I am currently sitting down with @HoustonPubMedia News 88.7 and discussing my bid for US Senate. I am excited for the opportunity to earn the support of all Texans! #AmandaForTexas #Amanda4Texas #PeopleOverPolitics pic.twitter.com/Up6N0EWuNm

— Amanda Edwards (@AmandaForTexas) July 18, 2019
Texas continues to be in the national spotlight when it comes to the crisis at the border. What do you want to see out of Washington to address this crisis that's pretty close to home for you?
I think the humanitarian crises taking place at our border, and the behaviors that are being exhibited and described must stop today. It is completely untenable to believe that it is consistent with our values to separate families from each other, children from their parents, to keep them in conditions that are deplorable and are not consistent with basic human needs. We really need to use that as a call to action to really pushing forward toward comprehensive immigration reform. Because that's one slice of a much larger paradigm of dysfunction as it relates to how we treat people who come in and out of our country.
On what she wants to see in a comprehensive immigration reform bill:
Well, certainly I want us to stop going back on our promises. I mean, look at our DREAMERS, who were here, they did what they thought they were supposed to do. And we told them that this is a safe space for them in this way, and still at the drop of a hat and on a whim, we can simply just take that away. People who are working, people who are trying to go to school, trying to contribute to our society and the insecure standing that they face... we need to be consistent.
In addition to that, looking at real pathways toward citizenship with regard to families that are here. We have to figure out ways to appropriately handle and manage the situation. Are there undocumented immigrants here? Of course, there are. What is the appropriate way to manage that? Let's do it, and let's do it in a collective sense as opposed to piecemeal.
Running for Senate of course means you won't pursue another term as a City Council member. What are your priorities as you finish up your term?
One of the things that I really want to bring to the forefront is my work with women and minority-owned businesses. Currently, I have a taskforce that is operating and functioning to find answers to how we can actually bring access to capital for small businesses that are owned by women and minorities who, in some cases, are three times less likely to gain access to traditional modes of capital than their non-minority counterparts. So instead of simply saying Houston is the most diverse city in the country, we need to be able to say not only is Houston the most diverse, but we are the place where problems and challenges that face diverse communities are solved. That is my goal.
I'm also pushing for an ordinance to come out very soon that would allow some cash from the city to flow. So if we use our city deposits and allow those to be deposited in CDFIs, community-based banks, etc, and then use those cash deposits as an incentive — for every dollar you lend to a small business owned by a minority or a woman or a veteran, for example, we will deposit two in your bank. So suddenly, instead of that being at the bottom of your list of priorities, those groups are suddenly an appealing group of folks to lend to. And that's the kind of way you actually put your money where your mouth is.
This interview was edited and condensed for clarity.