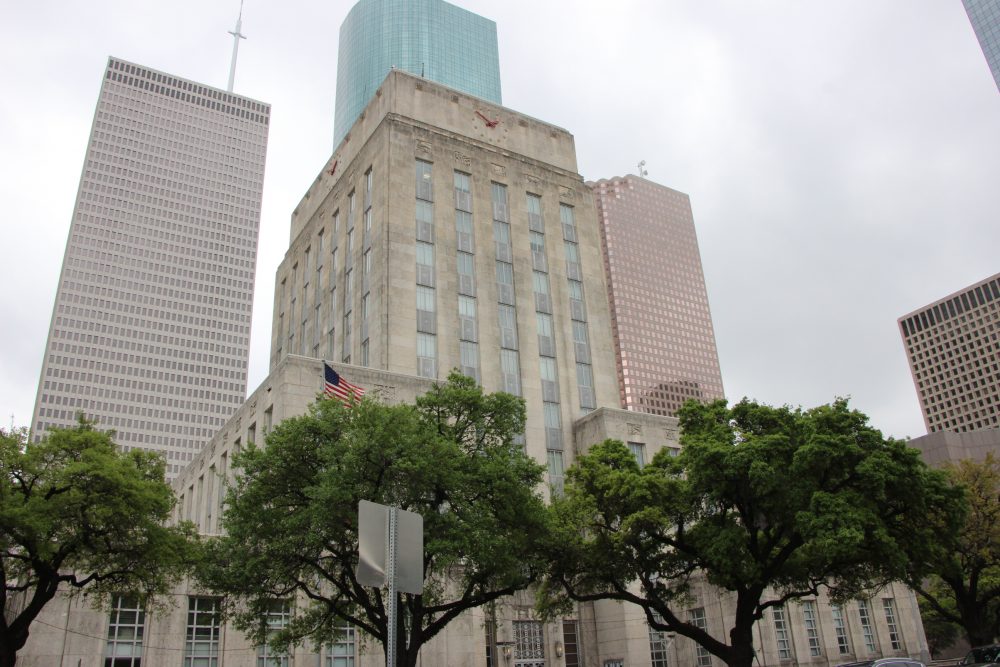 UPDATE (August 20, 2019): The post has now been updated with all of the candidates who met the filing deadline on August 19.
We're starting to get an idea of what November elections will look like in Houston, with a mayoral race and all 16 seats on City Council up for grabs.
Councilmembers Brenda Stardig, Jerry Davis, Ellen Cohen, Mike Laster and Jack Christie are term limited, making Districts A, B, C and J, as well as At-Large Position 5, open seats this November. In District F, incumbent Steve Le said he's not seeking reelection. And with Councilmember Dwight Boykins running for mayor, several candidates are running for his seat in District D. Amanda Edwards also will not seek reelection for At-Large Position 4, as she's running for U.S. Senate.
Councilmembers Dave Martin, Greg Travis, Karla Cisneros, Robert Gallegos, Martha Castex-Tatum, Mike Knox, David Robinson, and Michael Kubosh are running again for District E, G, H, I, K, At-Large Position 1, At-Large Position 2, and At-Large Position 3.
Former Harris County Treasurer Orlando Sanchez is jumping into the race for controller, running against incumbent Chris Brown.
Below is the list of candidates who filed for a place on the ballot by the August 19 deadline. Those who didn't make the deadline have until August 23 to file as a write-in candidate.
Mayor
Kendall Baker
Dwight A. Boykins
Derrick Broze
Tony Buzbee
Naoufal Houjami
Bill King
Sue Lovell
Victoria Romero
Demetria Smith
Johnny "J.T." Taylor
Sylvester Turner (incumbent)
Roy Vasquez
City Controller
Chris B. Brown (incumbent)
Orlando Sanchez
District A
Mehdi Cherkaoui
Marina Angelica Coryat
Lois Dickson Myers
Amy Peck
Iesheia Ayers-Wilson
George Harry Zoes
District B
Robin J. Anderson
Cynthia Bailey
Prince E.W. Bryant II
Broderick F. Butler
Alvin D. Byrd
Karisma D. Gillam
Tarsha Jackson
Alice Kirkmon
Karen "KKC" Kossie-Chernyshev
Kenneth Perkins
Alyson Quintana
Renee Jefferson Smith
Ben White, Jr.
Huey German-Wilson
District C
Candelario Cervantez
Michelle Ganz
Rodney Hill
Gladys House
Abbie Kamin
Shelley Kennedy
Sean P. Marshall
Greg Meyers
Bob Nowak
Daphne Scarbrough
Mary Jane Smith
Kevin Walker
Amanda Wolfe
District D
Anthony Kirk Allen
Carla Brailey
Andrew C. Burks, Jr.
Rashad Cave
Marlon A. Christian
Dennis Griffin
Mike Grissom
T. "Nissi" Hamilton
Brad "Scarface" Jordan
Travis McGee
Dontrell L. Montgomery
Ken Moore
Jerome Provost
Carolyn Evans-Shabazz
Terrill D. Thomas
District E
Sam Cleveland
Dave Martin (incumbent)
District F
Van Huynh
Anthony Nelson
G. "John" Nguyen
Richard Nguyen
Tiffany D. Thomas
Jesus Zachary Zamora
District G
Tom Baker
Crystal Pletka
Greg Travis (incumbent)
District H
Karla Cisneros (incumbent)
Isabel Longoria
Cynthia Reyes-Revilla
Gaby Salcedo
District I
Robert Gallegos (incumbent)
Richard "Rick" Gonzales
District J
Nelvin Adriatico
Federico "Freddie" Cuellar
Barry Curtis
Rafael Galvan
Andrew "Drew" Patterson
Edward Pollard
Sandra Rodriguez
District K
Martha Castex-Tatum (incumbent)
Kim Sauke
Gerry Vander-Lyn
At-Large Position 1
Larry Blackmon
Mike Knox (incumbent)
Yolanda Navarro Flores
Georgia Provost
Raj Salhotra
At-Large Position 2
Willie R. Davis
Emily Muñoz DeToto
M. "Griff" Griffin
Jim Honey
David W. Robinson (incumbent)
At-Large Position 3
Janaeya Carmouche
Jose Carlos Gonzalez
Michael Kubosh (incumbent)
Marcel McClinton
At-Large Position 4
Bill Baldwin
Christel Bastida
Anthony Dolcefino
Javier Gonzalez
Tiko Hausman
Nick Hellyar
James "Joe" Joseph
Jennifer L. Laney
Ericka McCrutcheon
Letitia Plummer
Jason Rowe
At-Large Position 5
Sallie Alcorn
J. Brad Batteau
Michelle Bonton
Eric Dick
Catherine Garcia Flowers
Ralph "Rafa" Garcia
Marvin McNeese Jr.
Sonia Rivera
Ashton P. Woods