About 1,000 people attended a campaign rally held by Vermont Senator Bernie Sanders on Wednesday afternoon in Houston. Sanders is vying to be the Democratic presidential candidate in 2020.
The rally took place at Discovery Green, with attendees displaying Texas flags and campaign signs. "Our efforts will be based on justice," said Sanders when he addressed the crowd shortly after 5 p.m. He also said President Donald Trump is dividing America.
.@BernieSanders tells crowd at Discovery Green that most of the wealth shouldn't go to the richest while Americans are struggling for healthcare and good jobs @HPMNews887 pic.twitter.com/yo8zrnXTNP

— Gail Delaughter (@Gail_HPM) April 24, 2019
Sanders is currently in second place, behind former Vice President Joe Biden, in national polling, according to Real Clear Politics, which compiles multiple polls, including Quinnipiac, Monmouth and Politico.
The independent senator from Vermont ran for the Democratic presidential nomination in 2016, but lost to Hillary Clinton.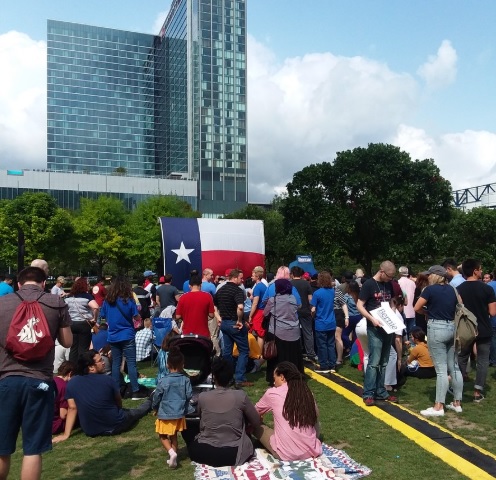 Platform
Sanders, who is 77 years old, is a declared democratic socialist. One of the main proposals of his platform is making the federal government provide health care, which Democrats are calling Medicare for All this election cycle.
Sanders is also advocating for expanding social security, making public colleges and universities tuition-free, and reforming Wall Street and the criminal justice system.
He said at the Houston rally that Americans shouldn't feel "anxiety and stress" while trying to feed their families.
Earlier on Wednesday, Sanders participated in another event held in Houston, a presidential forum at Texas Southern University.
EDITOR's NOTE: The original version of this story reported Senator Bernie Sanders is a declared socialist. We have updated the story reporting he is a declared democratic socialist as a more precise description of his political ideology.