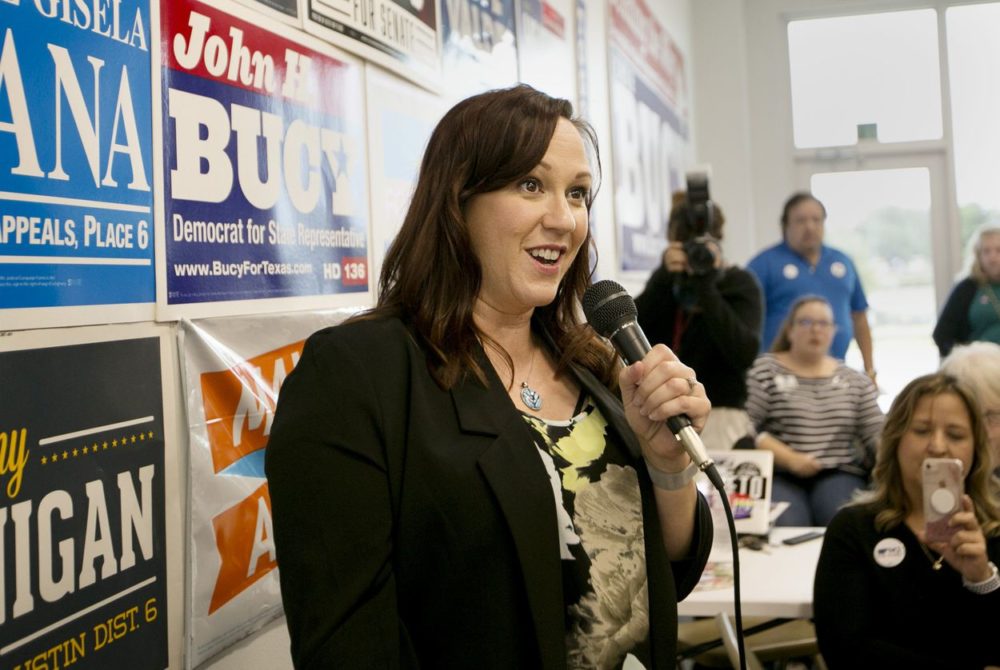 Former Democratic congressional candidate MJ Hegar is running for U.S. Senate in 2020.
Hegar, a former Air Force helicopter pilot, mounted a high-profile bid to unseat U.S. Rep. John Carter, R-Round Rock, in November, fueled by attention-grabbing ads and massive fundraising. She ended up losing by less than 3 percentage points in the traditionally Republican district.
"Texans deserve a senator who represents our values, strength, courage, independence — putting Texas first," Hegar said in an announcement video made in the style of her 2018 ads. "I didn't get a pilot slot my first time trying. We Texans don't give up easy, and everything we've accomplished is just the beginning."
In the video, a motorcycle-riding Hegar emphasized Cornyn's closeness with Senate Majority Leader Mitch McConnell. Through last year, the Texan served as McConnell's majority whip, making him the second highest-ranking Republican in the Senate.
"For those of you who don't know, Sen. John Cornyn, he's that tall guy lurching behind Mitch McConnell in basically every single video," Hegar said. "He calls himself Big John, but he shrinks out of the way while Mitch McConnell gets in the way of anything actually getting done in our government."
Responding to Hegar's announcement, Republicans moved quickly to tie her to the top Democrat in the Senate, Minority Leader Chuck Schumer. The National Republican Senatorial Committee said "New York liberal Chuck Schumer found his chosen candidate in MJ Hegar," while Cornyn's campaign referred to her as Schumer's "handpicked candidate."
"Texans rejected her radical views once and they will again," Cornyn campaign manager John Jackson said in a statement.
To take on Cornyn, Hegar could face a competitive primary with U.S. Rep. Joaquin Castro of San Antonio, who has said he is considering a run and will make an announcement soon. Another Democratic elected official, Houston City Councilmember Amanda Edwards, has also said she is mulling a campaign.
Three mostly lesser-known Democrats are already running: Michael Cooper, Sema Hernandez and Adrian Ocegueda.
Asked last week about potentially facing Hegar, Castro told reporters that he believes the "era of uncontested primaries in both parties in Texas is over." His political team reiterated Tuesday that sentiment in a statement on Hegar's announcement that praised her contributions to the race but continued to keep the door open to him running.
"Every candidate in this race has announced on their own timeline and is making their own case to the voters of Texas," Castro adviser Matt Jones said. "Joaquin is no different. The last two campaigns he has fought, and won, started with a tough primary."
After Republican U.S. Sen. Ted Cruz's narrow victory against Democrat Beto O'Rourke last year, Cornyn has sought to show he is taking his race seriously, making key hires early on, building a $7.4 million war chest and working to define potential opponents early in the cycle.
Hegar appears ready for battle too. Her campaign manager will be Preston Elliott, a veteran of battleground Senate races who previously managed campaigns for former U.S. Sen. Kay Hagan of North Carolina and U.S. Sen. Jon Tester of Montana.
This piece was originally published in The Texas Tribune, a nonprofit, nonpartisan media organization that informs Texans — and engages with them — about public policy, politics, government and statewide issues.