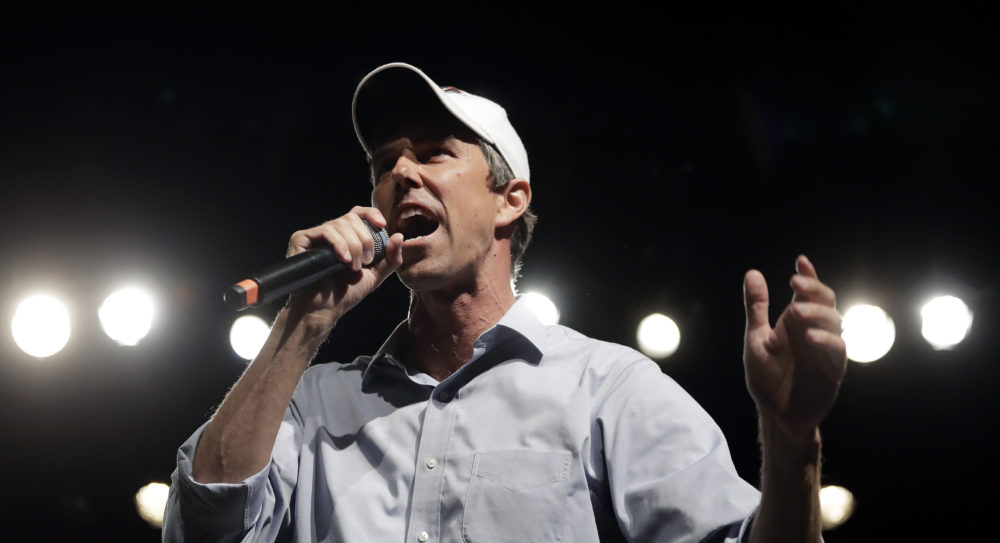 As Beto O'Rourke enters a crowded field of politicians vying for the Democratic ticket in 2020, here's how some Texans are reacting to his bid for the White House.
O'Rourke made a big impression on the national stage last year when he got within 3 percentage points of upsetting Republican Senator Ted Cruz. He also shattered fundraising records. He faces a lot of competition for the Democratic nomination, including Senators Bernie Sanders, Cory Booker, Elizabeth Warren and Kamala Harris.
The reactions to O'Rourke's announcement have come from experts, politicians and voters.
Nancy Sims, a political analyst and lecturer at the University of Houston, said that he is a strong candidate because of the national exposure he gained last year.
"There's some polling and he seems to cut across the top tier," Sims said on Houston Matters. She noted that O'Rourke beat President Donald Trump in a UT-Texas Tribune poll, although it's early to tell whether that could also propel him at a national level.
Houston Matters: Nancy Sims on Beto's Chances in 2020
Sims noted that O'Rourke's platform will focus on issues — like health care and immigration — that other Democrats are campaigning on. However, the fact he is from a border town "gives him a different perspective on this issue," she said.
Texas Democratic Party Chair Gilberto Hinojosa said in a statement the party is "proud" to have O'Rourke trying to win the presidential nomination. He highlighted his achievement in 2018 when he came close to beating Cruz in a state that's supposed to be robustly Republican. The party also highlighted O'Rourke's success on Twitter.
.@BetoORourke delivered the best statewide margin in a generation. He shattered all expectations and showed the nation that Texas is in play in 2020. We're proud to have him in the race: https://t.co/WmTlwy32XQ

— Texas Democrats (@texasdemocrats) March 14, 2019
O'Rourke's announcement also drew reaction from Republicans. Cruz was one of the few members of the Texas congressional delegation that commented.
Beto O'Rourke said he wants to tear down the wall. Texans want a secure border.

We need to say NO to Beto's radical agenda. #BeatBeto: https://t.co/AONybAJ9dE pic.twitter.com/YJyZeq5nBT

— Ted Cruz (@tedcruz) March 14, 2019
The Texas Republican Party also quickly slammed O'Rourke as joining "several fellow socialists" and criticized his stance on immigration, which the party called "dangerous."
Beto O'Rourke wants open borders, to tear down existing sections of the wall, and to decriminalize border crossings! Too dangerous for Texas, too dangerous for our country! pic.twitter.com/SI41beCuAP

— Texas GOP (@TexasGOP) March 14, 2019
The Texas Tribune's CEO Evan Smith tweeted about how the former congressman's nickname is drawing a new round of GOP attacks.
Already national Rs are calling Beto "Robert Francis," as if he just adopted his nickname to run for office. Been there, done that, got the sweater #tx2020 pic.twitter.com/zw9S10tU8k

— Evan Smith (@evanasmith) March 14, 2019
Some people who knew O'Rourke before politics also weighed in on social media. Julie Beth Napolin, a scholar, musician and radio producer, said that she isn't surprised about her former peer's ambitions.
The drummer from my high school punk band is now running for President. I have to admit that, had I been told this at 16, I would have believed it then, too, and we would have written a great song about it. #Beto #TheSwedes

— voicesbend (@voicesbend) March 13, 2019