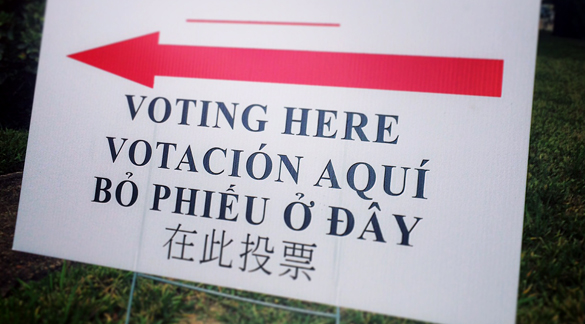 Tomorrow is the last day you can register to vote in this November's elections. Registration has been climbing in Texas, but it's far from clear that will affect turnout.
Texas routinely ranks at or near the bottom for state voter turnout, occasionally trading spots with West Virginia and Tennessee.
Demographic factors are part of the explanation, according to Renée Cross, senior director of the Hobby School of Public Affairs at the University of Houston. Turnout tends to correlate with education, wealth, and age. "Well, our education levels are lower in Texas, plus we have over 3 million people living in poverty, plus we have a young state," Cross says.
The large number of naturalized citizens in Texas also plays a role. "They are eligible to vote," Cross says, "but that doesn't mean that they have grown up in a culture of voting. So, generally it'll take at least one or two generations before voting becomes a habit."
Institutional factors also play a part. Texas doesn't make it easy to vote. The large number of new residents coming from other states can find the registration process confusing
Finally, there's the state's long history of one-party rule. "It may have been the Democrats before, but it certainly has been the Republicans for the last 25 years or so," Cross says.
The result is that many congressional districts are so gerrymandered that residents of the minority party have little incentive to vote.