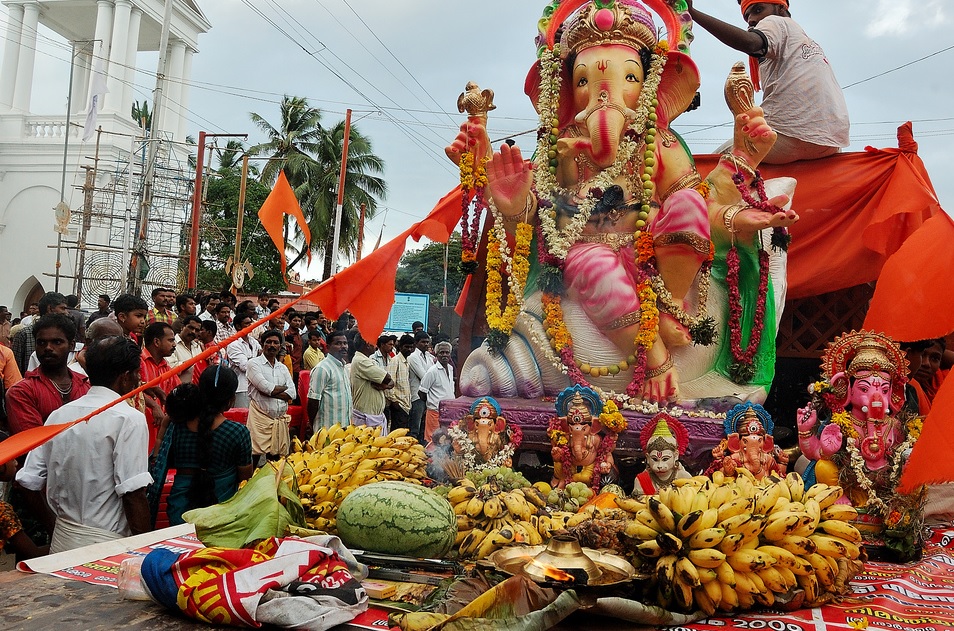 The Fort Bend County Republican Party has apologized for a newspaper ad aimed at Hindu voters. But the controversy could have lasting consequences.
The ad ran in the India Herald ahead of the festival of Ganesh Chaturthi. The festival honors Ganesha, an aspect of the divine depicted with the head of an elephant. The ad concluded with the appeal, "Would you worship a donkey or an elephant? The choice is yours."
Rishi Bhutada is a board member of the Hindu American Foundation and a Fort Bend County resident. He says the ad provoked outrage in the county's Hindu community, "not only for the fact that it equated worship of Lord Ganesha to choosing a political party, but also because it implied that Hindus worship animals as gods, and it's a very common misconception that can lead to bullying...about one in three Hindu students in the United States report being bullied."
The foundation called on the Fort Bend County Republican Party to apologize for running the ad, which Bhutada decried as "problematic and offensive."
Jacey Jetton, the county party's chairman issued the following statement in response: "The ad was meant to be part of the celebration [of Ganesh Chaturthi] and acknowledge the occasion. The ad was not meant to disparage Hindu customs or traditions in any way. As the party's first Korean-American Chairman, I have seen successful party outreach and understand the complexities of those efforts. This ad was created with input from those of Hindu faith so that we could properly pay respect to the sacred festival. This highlights the difficulty in outreach that can be positive for one group but not for another in the same community. We offer our sincerest apologies to anyone that was offended by the ad. Obviously, that was not the intent."
"I always have a little bit of a concern when people say, 'If you were offended, then we are sorry,' says Mika Rao, another Fort Bend County resident. "Really what I would like to have heard is something like, 'In reflection, we recognize why this was insensitive, and we apologize.'"
The Hindu American Foundation is planning a get-out-the-vote campaign tied to Diwali, the Hindu Festival of Lights. This year, Diwali falls on November 7, the day after Election Day. Several Indian-American candidates are on the ballot in Fort Bend County, most notably Sri Preston Kulkarni, the Democratic opponent of Republican Congressman Pete Olson.