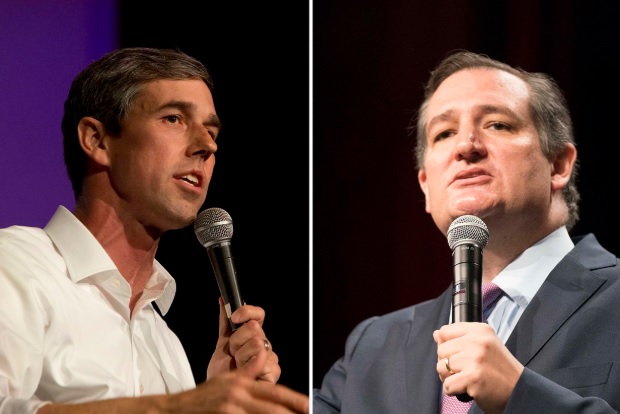 A poll released this week regarding the race between Ted Cruz and Beto O'Rourke shows the Republican incumbent Senator leading by 9 percentage points, while the other one indicates the Democratic Congressman is ahead by 2 percentage points.
Cruz, R-Texas, leads O'Rourke by 9 percentage points among likely voters, according to a new poll from Quinnipiac University, which conducted the survey through phone interviews.
Released Tuesday, the survey found Cruz with 54 percent support and O'Rourke, an El Paso congressman, with 45 percent. Only 1 percent of those polled were undecided.
"The Texas U.S. Senate race between Sen. Ted Cruz and Congressman Beto O'Rourke, and Democratic hopes for an upset win there, have boosted talk of a Senate takeover," Peter Brown, assistant director of the Quinnipiac University Poll, said in a news release. "These numbers may calm that talk."
It's the first time Quinnipiac has released a likely voter survey in the Senate race. Quinnipiac previously polled registered voters three times, finding Cruz ahead by 6 points in August, 11 in May and 3 in April.
In the Senate race, Quinnipiac found Cruz has a higher favorability rating than O'Rourke does. Fifty-two percent of likely voters said they like Cruz to 43 percent who said they do not, while the split was a more divided 43-42 for O'Rourke.
The latest Quinnipiac survey was conducted from Sept. 11 to Sept. 17 and reached 807 likely voters using live interviews on landlines and cell phones. The margin of error was plus-or-minus 4.1 percentage points.
The company Ipsos conducted the survey that has O'Rourke ahead. The poll was also conducted online among likely voters and was released Wednesday, in conjunction with Reuters and the University of Virginia.
O'Rourke has been closing the gap over the last several months, but this is the first poll that puts him ahead of Cruz.
Forty-seven percent of likely voters told Reuters they would vote for O'Rourke, while 45 percent said they would cast their ballot for Cruz. Three percent said they would vote for "Other," and 5 percent said "None." The margin of error on that portion of the poll was 3.5 percentage points.
Trying to predict who will show up on Election Day is what that shifts the numbers, said Ipsos Vice President Chris Jackson.
Ipsos is trying to gauge political enthusiasm on each side, said Jackson. The poll asked respondents to estimate the likelihood that they'd vote in the midterm elections on a scale from one to 10. "More Democrats are registering at the highest part of the scale, at the 10, than the Republicans," Jackson said. And that's what's interesting, he said, because Republicans usually have the momentum advantage in Texas.
"It demonstrates how Democrats are mobilized," said Jackson. "This election is going to be really competitive and its going be very hard fought."
Healthcare and immigration were the issues that Texas voters valued most, according to the poll, but it's "very lopsided," Jackson said. Republican respondents cared most about immigration and Democrats cared most about healthcare with very little overlap.
Respondents were also asked whether they perceived Cruz and O'Rourke as "traditional" politicians. Among likely voters, 76 percent saw Cruz as traditional, while only 32 percent perceived O'Rourke that way — something that may be to O'Rourke's advantage in a political climate that leans away from establishment politics, Jackson said.