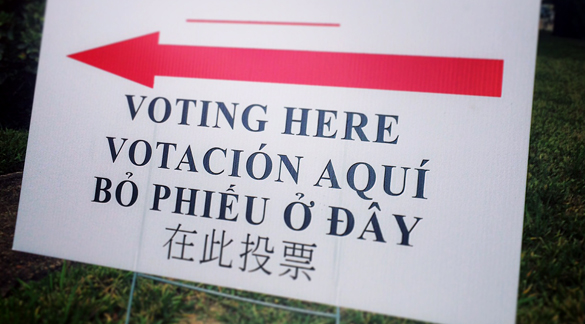 November is approaching, which means the midterm elections are in sight. While candidates are trying to gather votes, some Houstonians' ability to vote has come under scrutiny.
Last month, Harris County voter registrar Ann Harris Bennett said a software glitch mistakenly suspended the voter registration status of over 1,700 voters. These suspensions followed a challenge by a local Republican activist to the legitimacy of nearly 4,000 voter residencies.
The Letters
The voters under question received letters from Bennett's office, asking them to confirm their addresses. Counties are required to wait 30 days for a response before suspending registration, but Bennett's office went forward with the suspensions immediately.
Bennett, a Democrat, said that a software glitch caused the suspensions and the problem has since been corrected. She blamed Republican groups for using a strategy to take voters off the rolls, but also emphasized that the voters in question are from all over the county.
"What I want to do is put the public's anxiety at rest," Bennett said, at a recent press conference. "We are not here to take eligible people off the rolls that should be there."
Lynn Lane, a local photographer who lives in the Third Ward, was a recipient of one of Bennett's letters, dated August 15.
"I thought it was junk mail when I initially received it," Lane said. "I was getting to set it into the recycling bin, but for some reason I decided to open it to see what it was."
The letter was a challenge from the voter registrar to Lane's residency. When he went online, he said he found his voter registration was suspended.
MY VOTER REGISTRATION WAS SUSPENDED! I received a letter stating my information was changed and I checked online and my registration has been suspended! @maddow @chrislhayes @Lawrence @andersoncooper @KHOU #votersupression #texas

— Lynn Lane (@docmaker) August 20, 2018
Lane said he's lived in the same location for five years and votes in every election.
"Why would they challenge me? There's no reason to challenge me other than I live in a certain area and I'm a Democrat," Lane said.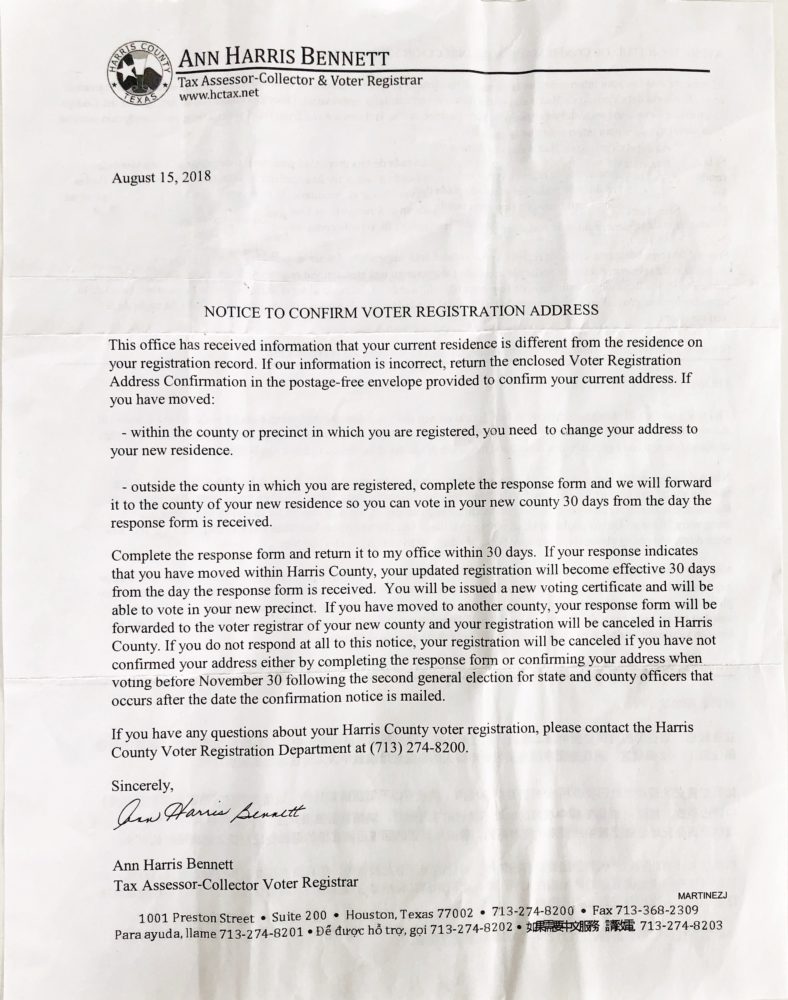 Challenging thousands of voter registrations
Alan Vera, volunteer chairman of the Harris County Republican Party's Ballot Security Committee, lead the original challenge to nearly 4,000 registrations. Vera said he was exercising his right as a registered voter to challenge other registrations in his county, outlined in state law. The voter registrar is compelled to address such voter registration challenges.
But last week, the Harris County Attorney's office said Vera's challenges are invalid because the law also states a challenger should have "personal knowledge" of the inaccurate registration. According to the Houston Chronicle, Assistant County Attorney Douglas Ray said, at Harris County Commissioners Court, that Vera could not have known each of the 4,037 voters he challenged. Therefore, Ray said the challenges should not be considered.
The Chron reports Vera disagrees, and will "take follow-up actions."
Democrats vs. Republicans
Some Democrats claim Vera's challenge was a political move to suppress targeted voters, but the Harris County Republican Party denies it.
"These challenges are not partisan," Vlad Davidiuk, Communications Director for the Harris County Republican Party told News 88.7. "The purpose is to ensure that a voter only votes in those elections that affects where the citizen lives."
Davidiuk said that the list of challenged voters had suspicious residencies, such as addresses for P.O. boxes, churches and massage parlors, and that no residential area or type of voter was targeted.
"The people who were targeted in this particular submission of challenges were not targeted because they lived in a particular neighborhood or part of a particular voting block or part of a particular demographic," said Davidiuk . "They were targeted because they had listed with the Harris County Voter Registrar Office that their residence was a place that was questionable."
Voter turnout for midterms
Most Republicans and Democrats agree that the upcoming midterm election "really matters," according to a recent national survey from the Pew Research Center. That's why, advocates say, voter turnout in November is key.
Bob Stein, professor of political science at Rice University and a fellow in urban politics at the Baker Institute for Public Policy said he believes there are more effective ways to ensure proper registration than challenging it.
"Published research has shown that this type of action- which, in the case of Ms. Bennett, was clearly required by law- has a depressing effect on voter turnout," said Stein.
"But, it is often a way to suppress voter turnout. It's an attempt to identify individuals, who might be in communities of interest, that don't vote favorably towards one party or the other," Stein explained. "[This challenge] was presented as a benefit, a correction on behalf of the voter. I thought that was odd—an easier way to do it was to essentially help these voters properly register, and not challenge their registration."
Lynn Lane, the voter who received one of the letters, said that challenges like Vera's will have serious implications, come November.
"You're challenging 4,000 people in a time when there's a midterm election and the voter turnout isn't that great." Lane said. "You've got Beto O'Rourke and Ted Cruz, and that's a highly contested race. Four thousand votes could make all the difference in the world."
Election day is November 6.