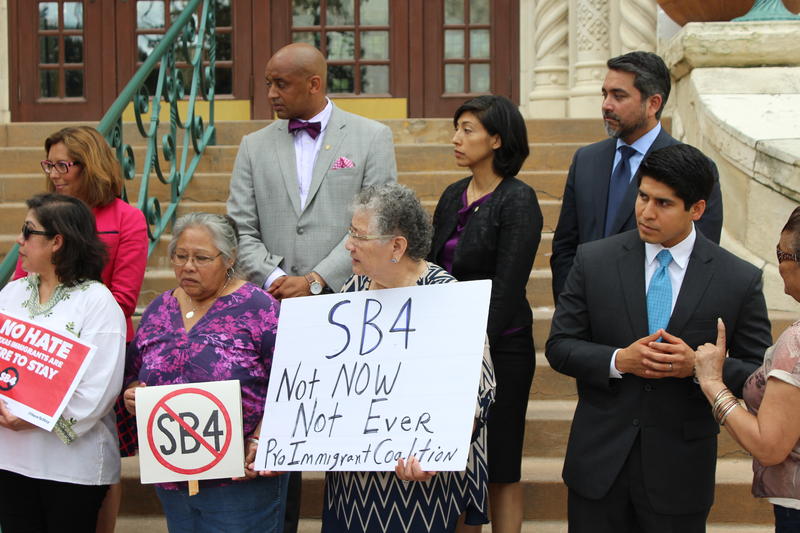 (Above: San Antonio Councilmembers Shirley Gonzales, Alan Warrick, Ana Sandoval, Roberto Trevino, and Rey Saldana attend a small rally outside San Antonio City Hall just hours before the city filed suit against the state over SB 4, the so-called "sanctuary cities" ban. Photo: Joey Palacios | Texas Public Radio)

The cities of San Antonio and Austin have
filed suit against the State of Texas
to halt implementation of SB 4, the just-passed "sanctuary cities" ban. Houston, to date, has not. Mayor Sylvester Turner said in
a statement at the end of May
that the city is in the process of reviewing and analyzing all bills that passed out of the recently concluded legislative session. "The city, of course, will adhere to all laws that are deemed constitutional and consistent with the rulings of the Supreme Court," Turner said in the statement. "SB4 does not take effect until September 1, 2017. In the meantime, the city of Houston will do its analysis."
On today's Houston Matters, we learn about the lawsuit from Joey Palacios, who's been covering the story for Texas Public Radio in San Antonio.
Also this hour…
Beyond the Wall Documentary
Behind all the rhetoric and political discourse about Pres. Donald Trump's proposed wall along the US-Mexico Border are real people who would be affected by it – border patrol agents, ranchers and undocumented immigrants. A new documentary called Beyond the Wall aims to put viewers in the shoes of those people as it explores the complex issues around immigration.
The film is produced by The Texas Tribune, which will host a screening of it followed by a panel discussion Thursday (June 8, 2017) from 6-8 p.m. at South Texas College of Law Houston.
Michael Hagerty learns more about the film and who will be involved in the discussion from Texas Tribune reporter Julián Aguilar. The screening is part of a larger conference happening in Houston called Mobilizing Coherent Community Responses to Changing Immigration Policy June 7-9, 2017.
Olympic Swimmer Simone Manuel
At last summer's Olympic games in Rio, Sugar Land's Simone Manuel became the first African-American woman to win an individual gold medal in swimming, all while setting an Olympic and American record in the 100-meter freestyle. She also holds three world records as a member of a relay team, and has won two individual NCAA championships at Stanford.
She was recently in town at the Harris County Aquatics Center's Johnnie Means Swimming Pool (near the Texas Medical Center) for an sponsored by the USA Swimming Foundation's "Make a Splash" campaign, which promotes swimming safety for kids, especially during the summer months. Manuel and fellow Olympic swimmer Cullen Jones got in the pool to give some neighborhood kids some swimming lessons. Afterward Abner Fletcher caught up with her to talk about her career and encouraging more minorities to take up competitive swimming.
Retired Tennis Star Zina Garrison
In June of last year, we presented the 2016 Houston Matters Road Show in front of a live audience at the Asia Society Texas Center, including a conversation with Houstonian and longtime tennis star Zina Garrison.
In the 1980s and 90s, Garrison was a fixture in professional tennis, routinely among the top women's singles players in the world. She made the Wimbledon final in 1990. But it was in doubles tennis that she really stood out, taking the gold at the 1988 Olympics and winning three Grand Slam mixed doubles tournaments in her long and successful career. After retiring from the pro tour, she established the Zina Garrison Foundation for the Homeless, and the Zina Garrison All-Court – now ZGA Tennis Program, supporting inner-city tennis here in Houston.
Adapting Orwell's 1984 for the Theatre
George Orwell's Nineteen Eighty-Four is perhaps the best-known depiction of a fictional, authoritarian dystopia where constant surveillance, distortion of facts, history, and language and subtle (or event overt) government oppression are important themes. Even for those who haven't read it, the idea of "Big Brother is watching you" has found its way into the culture, and has influenced a number of similar stories in film and literature.
Obsidian Theater based in The Heights is presenting Orwell's story in the form of a play adapted by Michael Gene Sullivan. Joshua Zinn spoke with the play's director, Tom Stell, about the original story, its adaptation, and the cultural relevance of its themes.
Houston Matters offers a free daily, downloadable podcast here, on iTunes, Stitcher and various other podcasting apps.