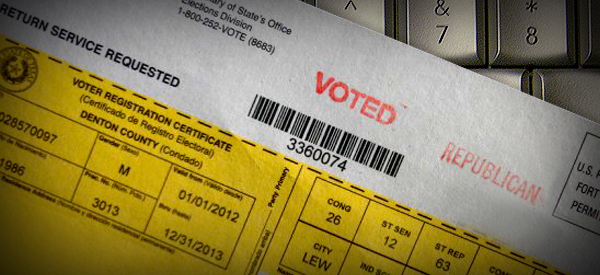 Confusion over the Texas voter ID law kept some people from voting in the 2016 election, according to a new study. Last week (April 10, 2017), the University of Houston's Hobby School of Public Affairs released a study that found what many political watchers have suspected: confusion over the law kept some people from voting during the 2016 general election, even though most registered voters could have complied with the ID requirements.
The study came out the same day a federal judge issued a second ruling that the state's voter ID law was discriminatory against African-American and Hispanic voters.
On today's edition of Houston Matters, we learn more about the full report by talking with Hobby School research associate and co-principal investigator Mark Jones, a political science fellow at Rice University's Baker Institute for Public Policy. He gives us more details about the report and the lessons that could be taken away from it for the future.
Also this hour…
How Can United Recover from PR Nightmare?
United Airlines has been under fire in recent days after the incident where a passenger was forcibly removed from a flight in Chicago to make room for airline employees. After no passengers volunteered to take a later flight and accept a travel voucher, the man was selected to leave the flight, but he refused to. Video of him being dragged down the aisle naturally went viral in what has roundly been considered a public relations disaster for the airline.
What steps could the airline take to try and recover from this episode? Do airlines have especially challenging public relations hurdles to climb compared to other companies in other industries? And why do many Houstonians still speak positively about Continental Airlines, which was based here before it was bought out by United?
Lies, Damned Lies and Statistics
There's been a lot of rhetoric in recent years in political ranks about violent crime — homicides, assaults, shootings, stabbings, etc. Depending on your sources of news, you might have the impression that the world is a constantly dangerous place to be feared. And in some corners, in some circumstances, perhaps it is. But has there actually been a rise in violent crime in Houston, across Texas or nationwide?
Well, it depends on the statistics you use and how you interpret them. We discuss how numbers can be manipulated to show, well, just about anything and about how much more vigilant we must all be as news consumers to constantly fact-check statistics and statements we see, hear and read.
Joining us for this conversation are two guests: Lindita Camaj, an assistant professor in journalism and mass communication at the University of Houston, and Christian McDonald, online projects and data editor for the Austin American-Statesman.
Sports Monday
The Rockets and the Thunder kicked off their playoff series in Houston Sunday night (April 16, 2017). And the Astros return home to face the Angels after spending the weekend in Oakland. We discuss those and other developments in Houston sports with MK Bower, writer for The Sports Xchange.
Houston Matters offers a free daily, downloadable podcast here, on iTunes, Stitcher and various other podcasting apps.