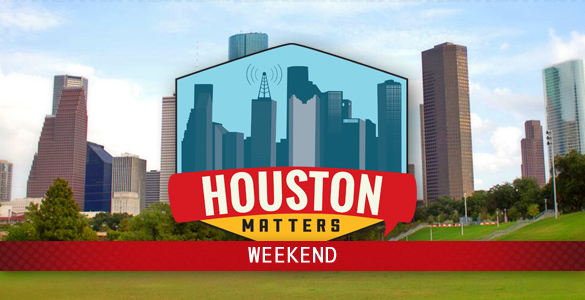 In his 2015 biography Destiny and Power: The American Odyssey of George Herbert Walker Bush, author Jon Meacham explored how the nation's 41st president has conducted himself throughout his life, through extensive interviews over a decade with the president, his family, friends, and colleagues. Meacham was also granted access to the former president's audio diaries and First Lady Barbara Bush's diary.
The book, now out in paperback, offered a glimpse into a different era of less demonstrably angry and bitter political discourse. How did we get there from here? And since the President and his wife recently found themselves with a lengthy hospital stay (followed by an upcoming Super Bowl coin toss!), we thought it was time to re-air this gem on this edition of Houston Matters Weekend.
Also this hour...
Water, Water, Everywhere…
A local activist group called Residents Against Flooding lays blame for our recent flooding woes not on Mother Nature but on bad permitting, variance approvals and other decisions. Paige Phelps talks with Ed Browne and Cynthia Neely from Residents Against Flooding.
And Jan. 18, 2017 marked the day officials would gather to discuss protecting Houston from flooding and storm surge at a symposium at the George R. Brown Convention Center. We got a preview from some of the panelists: Stephen Costello, the City of Houston's Flood Czar, and Mary Anne Piacentini, executive director of the Katy Prairie Conservancy. And with any discussion on how our city floods, there is a twist at the end.
Chris Thile's Saturday Night
Some Houstonians likely first encountered musician Chris Thile at area clubs like McGonigel's Mucky Duck, where Thile and his Nickel Creek and Punch Brothers bandmates performed amid nationwide tours. These days, though, more Houstonians likely know Thile as the new host of A Prairie Home Companion, heard weekends here on News 88.7.
Thile, a regular guest on the show, took over for longtime host Garrison Keillor, who retired last year. Thile was in Houston on Sunday (Jan. 22, 2017) to talk with Houston Matters host Craig Cohen in front of an audience of donors in the Houston Public Media TV studio. We hear some highlights of their conversation and Thile performs the Punch Brothers' song My Oh My.
Houston Matters Weekend airs every Saturday at 1 p.m. on News 88.7. If you have questions or comments about something you hear, e-mail us at talk@houstonmatters.org. | News 88.7 Program Lineup