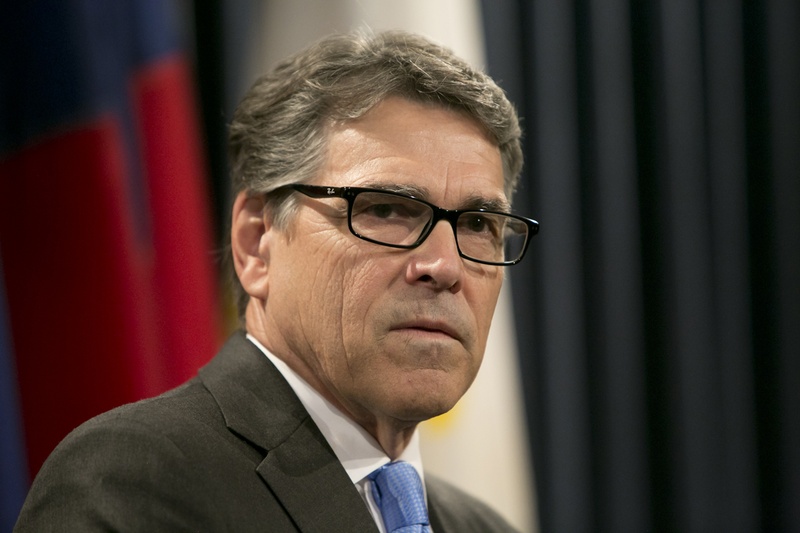 President-elect Donald Trump has reportedly selected erstwhile rival and former Texas Gov. Rick Perry to serve as his energy secretary.
If confirmed, Perry will oversee American energy policy and its ramifications on the economy, environment and national security.
CBS News and other outlets reported the news late Monday night, hours after Perry met with the president-elect in New York. It was the second time Perry had made the trip to Trump Tower.
Yet Perry has previously supported abolishing the Department of Energy entirely. Famously, during a presidential debate in November 2011, Energy was the third federal agency that Perry couldn't name while trying to list the three he wanted to eliminate.
"It's three agencies of government when I get there that are gone — Commerce, Education and the, um, what's the third one there? Let's see," Perry said, before finally giving up with his now-infamous "oops."
The appointment marks a full repair in Perry's relationship with Trump. Perry called Trump "a cancer on conservatism" last year while the two men were in a crowded field for the Republican presidential nomination. But Perry was one of the first members of the Republican establishment to back Trump, once it became clear in May that the real estate mogul had secured the party's nomination.
Perry's background as governor of Texas, a state rife with natural resources, is a key qualifying credential for the post. But this Cabinet role can go well beyond oil and natural gas. The outgoing secretary of energy, Ernest Moniz, had a physics background and played a central role in President Obama's Iranian nuclear deal.
If confirmed, Perry will be the third Texan to serve as secretary of energy. Previously, Houstonian Charles Duncan served in this role under President Jimmy Carter, as did Laredo native Frederico Peña in the Clinton administration.
Perry will face Senate confirmation once Trump takes office. Republicans control the Senate, making that process all the easier for the president-elect's nominees.
Read related Tribune coverage:
Patrick Svitek contributed to this report.
This article originally appeared in The Texas Tribune at https://www.texastribune.org/2016/12/12/rick-perry-lands-spot-trumps-cabinet/.