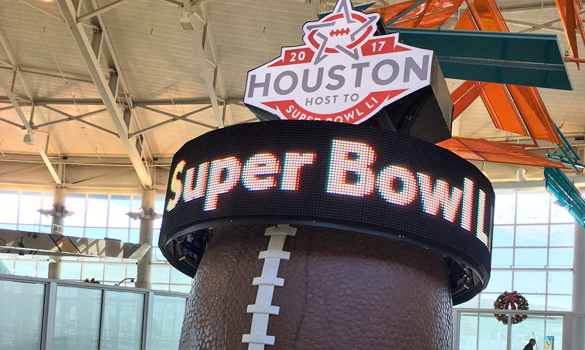 Super Bowl 51 in Houston is now just weeks away. What's been done to get the Bayou City ready to host such a high-profile event. What preparations remain? We find out from Mike Waterman, president of the Greater Houston Convention and Visitors Bureau.
Mike Waterman joins us to discuss the investment Houston First has made in the area around the convention center — $175 million that has gone into creating the downtown entertainment district called Avenida Houston — and how Houston will leverage all the exposure it gets from the big event, when all is done.
(Above:Â A countdown to Super Bowl 51 as seen at Houston's Hobby Airport. Photo: Michael Hagerty, Houston Public Media)
Also this hour…
Montrose Management Ordered To Pay Back $6.5 Million
The Texas Legislature created management districts around the state in 1999. When that happened, lawmakers authorized — and the Houston City Council approved — the collection of funds to promote economic development and to make improvements to public areas in individual neighborhoods. Since then, Houston has 51 of those such management districts in neighborhoods like Montrose. But commercial property owners protested and fought back with a lawsuit.
Now, Harris County has ruled that a local management district was not in compliance with the state law and now must reimburse commercial property owners in the Montrose area to the tune of $6.5 million. So what happens now in Montrose? Paige Phelps talks with Daphne Scarborough, a leader in the movement to dissolve the Montrose Management District. And we hear from Nancy Sarnoff, real estate reporter for the Houston Chronicle.
The Good , The Bad, and the Ugly
A lot can happen in a week. Some of it good. Some of it bad. Some of it downright ugly. When faced with intriguing developments in the week's news, we turn to our rotating panel of "non-experts" to parse The Good, the Bad, and the Ugly of it all. This week's panelists discuss a white nationalist speaking at Texas A&M, Congressman Gene Green's call for abolishing the Electoral College, and Texas queso losing a blind taste test to Arkansas cheese dip.
Our panel includes: Houston Chronicle writer Kyrie O'Connor, Off the Kuff political blogger Charles Kuffner, and Russ Capper, CEO of HighDrive.tv.
You Might Be From Texas If…
Have you ever eaten food shaped like Texas? Or worn a homecoming mum that weighs more than you? Or found yourself shivering indoors in the middle of the summer? Well, you just might be from Texas – at least in the eyes of Houston Chronicle cartoonist Nick Anderson. He's written and illustrated a new book of cartoons called You Might Be From Texas If…and tells Michael Hagerty where he gets his ideas.
Houston Matters offer a free daily, downloadable podcast here, on iTunes, Stitcher and various other podcasting apps.