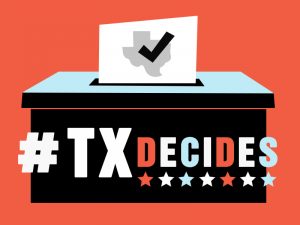 With the November election fast approaching and early voting around the corner, we have been devoting time these last few weeks to two key races in Harris County for Sheriff and District Attorney, and have offered you a chance to talk directly with candidates vying for your vote.
On this edition of Houston Matters, we conclude our candidate interviews, and welcome your questions for Kim Ogg, candidate for Harris County District Attorney.
Also this hour…
We Bid Farewell to Carrie Feibel in a Houston Matters Exit Interview
They're dropping like flies around here! Yes, sadly, another member of the Houston Public Media family is moving on. Carrie Feibel has accepted a terrific opportunity at NPR member station KQED in San Francisco, and while we're thrilled she's staying in the system, we'll miss her reports from News 88.7's health and science desk. The good news: not only does News 88.7's health and science coverage remain, you'll still hear Carrie's reports on occasion on NPR. And before she departs for California, in what's quickly becoming tradition around here, Carrie subjects herself to the Cohen exit interview.
True Crime Author Examines Famous Texas Stiletto Murder
An unusual murder case made headlines here in Houston in 2013. University of Houston professor Stefan Andersson was killed with a high-heel, stiletto shoe by his former girlfriend Ana Trujillo. True crime writer Kathryn Casey has written an account of the case called Possessed: The Infamous Texas Stiletto Murder. She tells Houston Matters producer Michael Hagerty about the case and the trial.
Houston Matters offers a free daily, downloadable podcast here, on iTunes, Stitcher and various other podcasting apps.