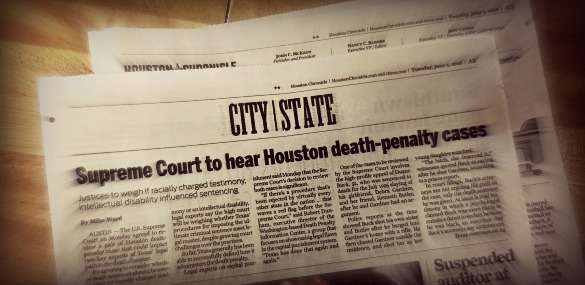 Late last month, the Houston Chronicle editorial board endorsed Hillary Clinton for President.
Typically, newspapers wait until the days or weeks just before an election to make such an endorsement, but, as the Chronicle's editorial outlining the decision stated, the paper made "an exception in the 2016 presidential race, because the choice between Hillary Clinton and Donald Trump is not merely political."
On this edition of Houston Matters, we talk with Jeff Cohen, the Chronicle's executive editor, about the paper's decision to put out an endorsement more than 100 days before the November election. Then we talk with Kelli Arena, executive director of the Global Center for Journalism and Democracy at Sam Houston State University, about whether newspaper endorsements are still influential.
MORE: Houston Chronicle Endorsement of Hillary Clinton (Houston Chronicle, July 29, 2016)
Also this hour:
Designating Houston as a "Welcoming City"
The idea of Houston being a generally welcoming city isn't new. By most measurements, we're the most diverse city in the nation, and have seen remarkable growth in population in recent years. But there's a more official designation of "Welcoming City" that is predicated on bringing the city and various communities together to find new ways to help immigrants integrate here. We learn more about this "Welcoming City" designation (which has been adopted in Los Angeles, Chicago, and New York City, among other cities) from Angela Blanchard, president and CEO of Neighborhood Centers, a non-profit that helps connect low-income clients, many of them immigrants, with opportunities in Houston. We also talk with Stephen Klineberg, founding director of the Kinder Institute for Urban Research at Rice University.
MORE: Houston Becomes An Official Welcoming City (Houston Public Media, August 4, 2016)
The Good the Bad and the Ugly
A lot can happen in a week. Some of it good. Some of it bad. Some of it downright ugly. When faced with intriguing developments in the week's news, we turn to our rotating panel of "non-experts" to parse The Good, The Bad and The Ugly of it all. This week our panelists (Houston Chronicle writer Lisa Falkenberg, conservative writer and political analyst Vlad Davidiuk, and MochaDad.com blogger Fred Goodall) examine the largest decline in home sales in several months, and Houston Heights residents having an opportunity in November to lift a longtime ban on beer and wine sales.
Last Night at the Alamo
In 1983, a group of actors took over a working class bar in Houston to film a movie. It was called Last Night at the Alamo, and it was directed by Eagle Pennell, a pioneer of the indie film scene. Now, more than 30 years later, a group that includes director and Houston native Richard Linklater has restored the movie and is holding screenings around the state. So what's this film about – and what might it have in common with modern-day Houston? Michael Hagerty finds out.
Houston Matters offers a free daily, downloadable podcast here, on iTunes, Stitcher and various other podcasting apps.