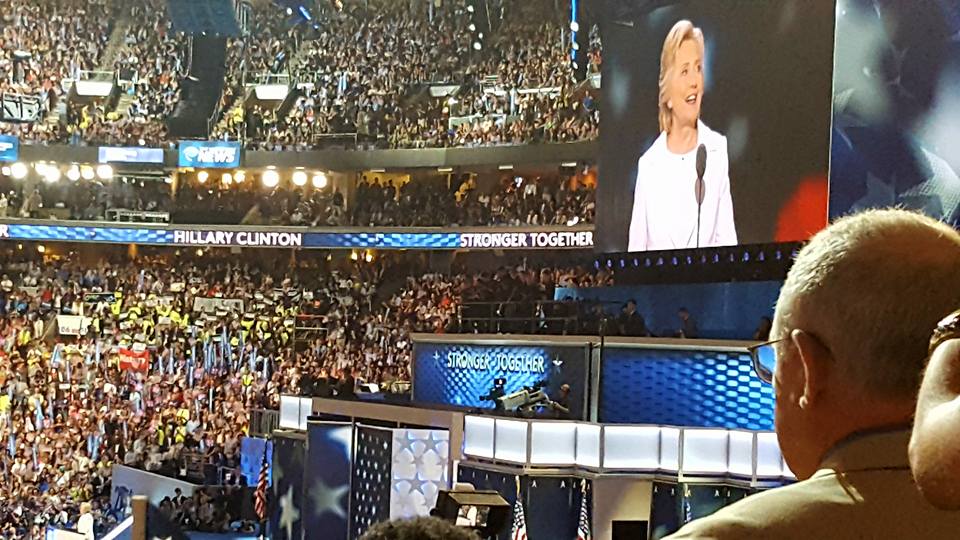 The 2016 Democratic National Convention concluded last night, with Hillary Clinton accepting her party's nomination for President. On this edition of Houston Matters, we talk with Texas Public Radio's Ryan Poppe, who has been reporting this week from the convention in Philadelphia. We discuss the impact the Texas delegation had on events this week.
We also check in with News 88.7's politics and government reporter Andrew Schneider to discuss Texas reaction to Clinton's address last night, whether Texas may be in play for Democrats in this (or future) elections and what fundraising Democrats may do in Texas between now and election day.
(Photo: Ryan Poppe, Texas Public Radio)
MORE: Recapping the Republican National Convention last week in Cleveland
Also this hour:
Preparing for Campus Carry

The state's new campus carry law takes effect Monday (Aug. 1, 2016). Campuses across Texas have been preparing by establishing their own rules and policies as dictated by the new law. Privately owned colleges can opt out, but public colleges and universities must comply. We hear from Marcilynn Burke, chair of the University of Houston's campus carry work group. Then we talk with Andrew Jackson Yoo, a UH Downtown alum who wants to see a city-wide campus carry task force to help "smooth out" implementation of the law. And we talk with UHPD Chief Ceaser Moore, about what the new law going into effect means for campus police.
The Good, the Bad, and the Ugly
A lot can happen in a week. Some of it good. Some of it bad. Some of it downright ugly. When faced with intriguing developments in the week's news, we turn to our rotating panel of "non-experts" to parse The Good, The Bad and The Ugly of it all. This week's panelists are Kyrie O'Connor from the Houston Chronicle, Russ Capper, a Forbes.com contributor and founder and host of both The BusinessMakers Show and The Energy Makers Show, and Texas Leftist blogger Wayne Ashley.
Houston Shakespeare Festival Presents Henry V and Much Ado About Nothing
Once again this summer, the University of Houston's School of Theatre and Dance presents the Houston Shakespeare Festival at Hermann Park's Miller Outdoor Theatre. Last year's festival drew more than 37,000 people. This summer, the festival features productions of Henry V and Much Ado About Nothing. We talk about the productions with this year's directors and a pair of cast members. And we learn why cast and crew members remain dedicated to providing free Shakespeare in the park.
Houston Matters offers a free daily, downloadable podcast here, on iTunes, Stitcher and various other podcasting apps.