Listen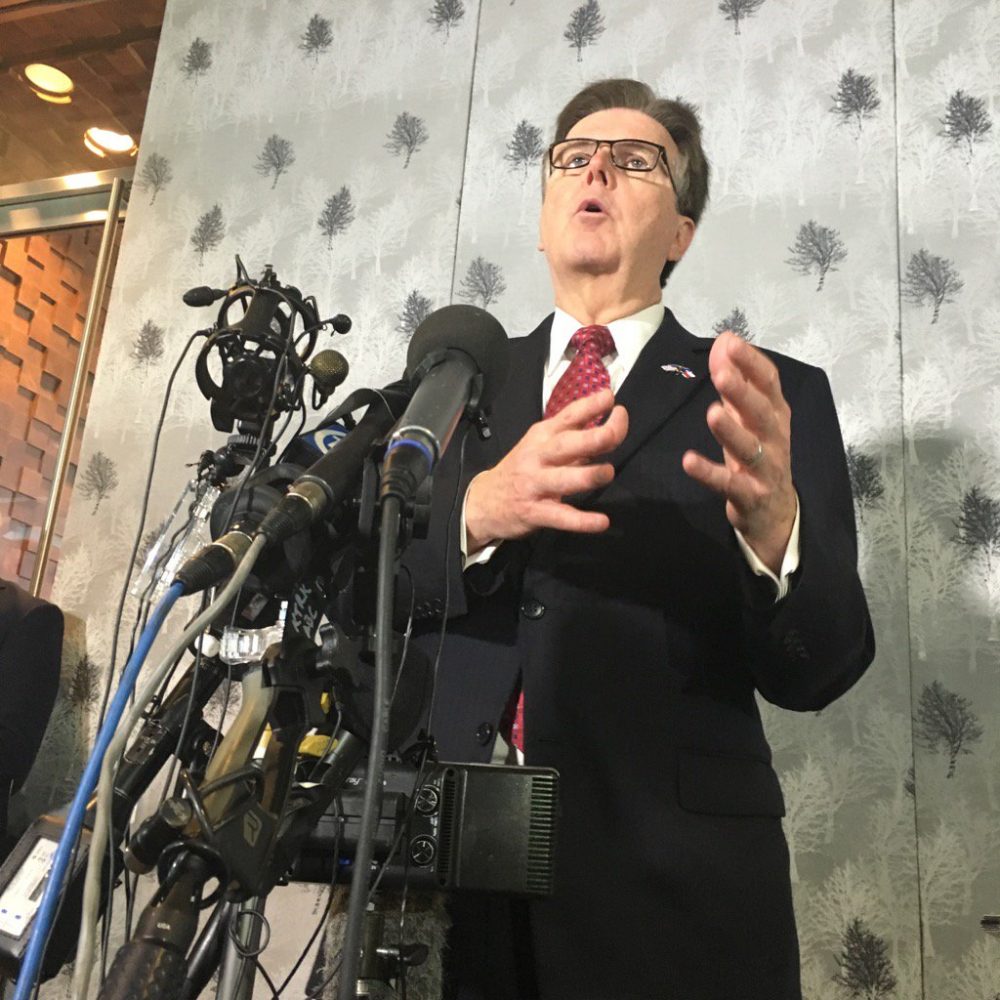 Lt. Gov. Dan Patrick at the Texas GOP Convention in Dallas.
Lt. Gov. Dan Patrick is telling Texas school superintendents to defy the Obama Administration's directive requiring that transgender students be allowed to use the bathroom of the gender with which they identify.
Patrick said there is no compromising on the issue of the transgender policy in schools. He described it as a matter of child safety, not one of civil rights, and invoked the Texas War of Independence.
"This is a modern day 'Come and Take It' issue, and the President of the United States, like the Superintendent of Fort Worth, is not coming and taking our children," Patrick said.
Fort Worth ISD Superintendent Kent Scribner issued his own guidelines for transgender students last month, similar to those of the Obama Administration. Patrick demanded Scribner's resignation, but Scribner refused.
Patrick described the administration's threat to withhold federal funding from schools that did not comply with the directive as blackmail, saying the president "can keep his thirty pieces of silver."
"And let me point out something. The schools in Texas get about $10 billion over our two-year budget of federal funds. The majority of that is for free breakfast and free lunch, through the food program through the Ag Department," he said. "So Barack Obama, if schools don't knuckle down to force girls showering with boys and force 8-year-old girls to have to endure boys coming into their bathroom, he's taking money from the poorest of the poor."
Patrick pledged to find state funds to make up for any the federal government cut as a result of the transgender policy dispute. It's unclear where that money will come from, given the state's other budget priorities.
The lieutenant governor said the Texas Legislature will introduce a bill banning localities from enacting transgender policies. He predicted bipartisan support for such a bill, citing last year's repeal of the Houston Equal Rights Ordinance.
"We defeated this ordinance in Houston, from Annise Parker, by a two-to-one margin in a city that's pretty much two-to-one Democrat," he said.
As to whether there will be a special session of the Legislature to advance the bill, Patrick said that was up to Gov. Greg Abbott. But he said he will support a special session if Abbott calls for it.