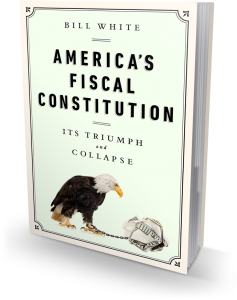 In his new book, America's Fiscal Constitution – Its Triumph and Collapse, former Houston Mayor Bill White explores the history of America through its budgets – and specifically, the attitudes and approaches of our elected leaders towards the incursion and payoff of debt. It's an unusual prism through which to examine our history. Most history books divide our nation's past through wars, or personalities. Mayor White's approach offers some perspective on how budgetary policy over the last 15 years or so, from both major political parties, has led to a willingness to accept debt-financed spending in ways we never accepted before. That departure has, in turn, led to a debt crisis, ongoing battles over the debt ceiling, and a continued erosion in the electorate's trust.
On this edition of Houston Matters, we'll talk with Bill White about how generally accepted limits to federal debt through much of our history have given way since 2001 to previously unheard of policies ranging from tax cuts during war, new permanent programs paid for entirely by incurring more debt, a growing dependence on foreign creditors, and claims that our economy's success hinges on continued and routine federal borrowing. We'll also explore what this all means for you and me here in Houston, where, like most big cities, we cannot operate in debt indefinitely.
Today is also the first day of our spring fundraising campaign. Over the last year, Houston Matters has explored a wide variety of issues and ideas. We've introduced you to your neighbors here in Greater Houston. You know more about the community in which you live because of this service. Your ongoing financial support makes it possible. Do your part to ensure that Houston "matters" in the years to come. Thanks!