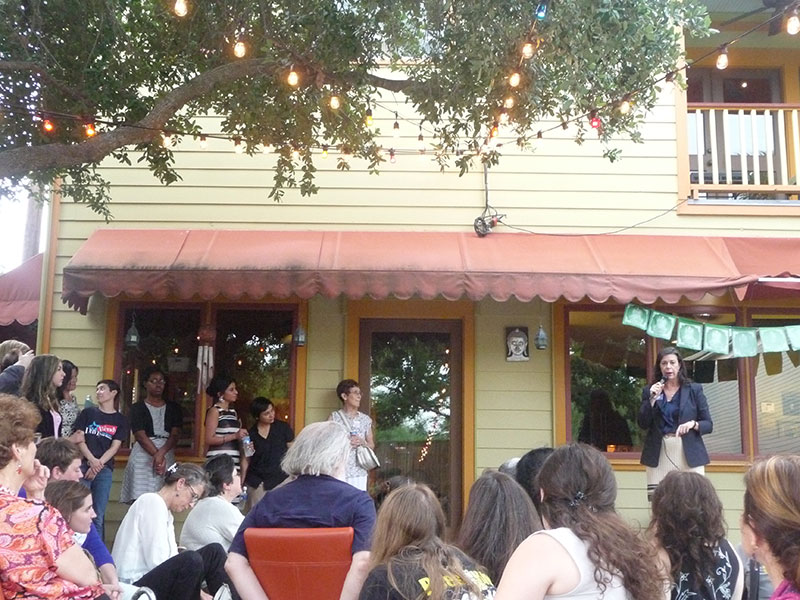 State Senate candidate Rita Lucido speaks to a crowd of Wendy Davis supporters at a Women for Wendy event in the Heights.
Democratic State Senator and gubernatorial candidate Wendy Davis recently launched the "Women for Wendy" effort to attract women voters. Key supporters of Davis believe that healthcare issues will motivate women to support her campaign. Jenifer Rene Pool, candidate for Houston City Council at Large Position 1, spoke at a local Women For Wendy event in late July.
"Because of the actions of both Abbott and Perry, we have cut women's health services. The fact that they didn't expand Medicaid is another thing where families are being isolated and not being able to get the medical care they need," Pool said.
According to a recent poll by Rasmussen reports, Senator Davis has come within 8 percentage points of Attorney General Greg Abbott, her Republican opponent. However, the candidates are tied among women voters.
Debbie Roen of the Bay Area Republican Women is skeptical about the Davis campaign's strategy. She says her group is not focused on recruiting single-issue voters.
"Birth control and abortion are not the issues that women I speak to are voting on. I think it's a myth to think that women's issues are different than anybody else's issues. Women are interested in jobs, in the economy, in their children's future. And I think it's through those eyes that we see an advantage in supporting Greg Abbott," Roen said.
Abbott believes he will win a majority of women's votes, but Pool is hopeful that the Davis campaign can steer the debate to one about families.
"People want to point to other divisive issues, but the fact is most people care about their family. I think that will galvanize women when they look at their kids or when they look at their spouse to see that it's important that Texas looks out for its citizens," Pool said.
The first of two televised debates between Abbott and Davis will take place on September 19.