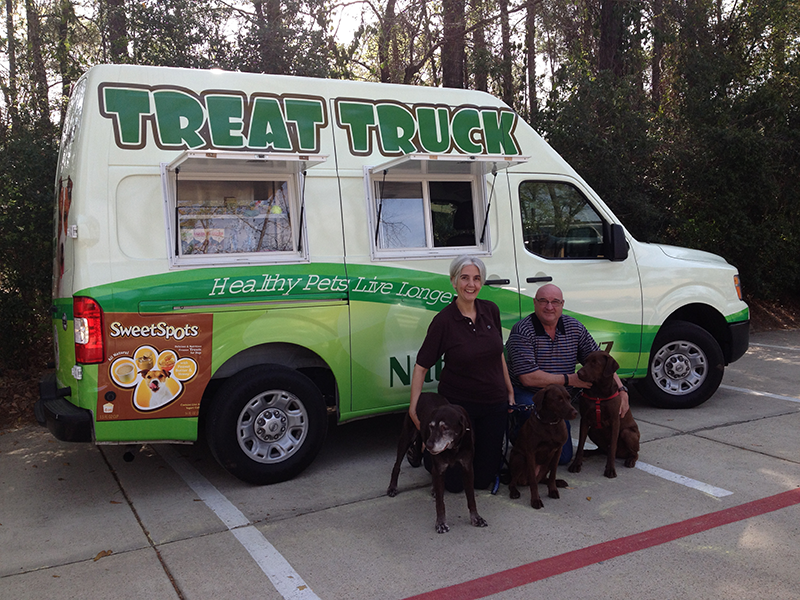 Biff Picone and his wife Nadine Joli-Coeur with the Natural Pawz Treat Truck. Their dog Callie (left), inspired the beginnings of Natural Pawz
Food trucks have become a natural sighting in various parts of Houston, catering to the human citizens of our city. Biff Picone and his wife Nadine Joli-Coeur are the owners of Natural Pawz, a Health Food Store for Pets, and are launching a one of a kind food truck, dedicated to serve treats and toys for our four legged friends.
The start of Natural Pawz came after their own dog, Callie, suffered allergies from non-natural dog food. Biff and Nadine played around Callie's diet, finding a healthier replacement.
"My wife came home one day and said I think we're supposed to open a retail pet store, and neither one of us knew anything about retail, but we had a desire and a passion to improve pets health because we saw what a difference it made in our dog. "
The success of the 2005 opening of Natural Pawz resulted in 12 more locations in the Greater-Houston area. The idea to take their holistic approach on the road came to mind after Natural Pawz received customer feedback that it would be beneficial if there was something that catered to dogs at dog parks.
"We're always trying to think outside the box and provide something that is kind of unique and different, that's who we are, and the idea of a food truck was just on top of the list, nobody is not going to like a food truck for dogs and one that I think gets a smile on a dogs owners face when they see it drive down the road."
The treat truck is solely for the dogs, but will include goodie bags for kitties as well. A summer menu includes peanut butter frozen ice cream, sugar free with no preservatives. Cookies, chews and tennis balls will also be available for purchase to make the trip to the dog park and ride home more enjoyable.
Biff Picone says the main goal for Natural Pawz is to give back to the community, and the treat truck will be the next vehicle in extending that purpose.
Biff and Nadine are taking their treat truck around town, hoping to make stops at dog parks and events. They say a portion of everything sold from the truck will be donated to rescue groups and shelters. You can find out when the treat truck will make a stop near you by visiting the Natural Pawz website at NaturalPawz.com.