Houston B-Cycle started in May of 2012 with three downtown stations and a total of 18 bicycles. It's now expanded to 29 stations and 230 bikes throughout Midtown, the Medical Center and Montrose.
The newest station is at the Clayton Homes Housing Project in the East End. It's also the newest station in a low-income area.
The city's sustainability director, Laura Spanjian, says bike-sharing usage has been good at other housing projects in Houston.
"We're putting it in an area that really wants and needs more alternative transportation options that are affordable. So we're so excited to partner with the Housing Authority to be able to put this station here, so that residents of this multi-family project can actually use these bikes, go grocery shopping, be right near the bike trail, get some exercise, visit friends."
Dr. Faith Foreman with the ity of Houston's Health and Human Services Department says low-income areas can especially benefit from bike-share programs.
For one, because people here are more likely to not have a car to get around. And secondly, diseases like diabetes, high blood pressure and obesity are more prevalent among low-income people.
"And all of those can be managed better if you're increasing your physical activity and being active every day or at least 30 minutes, five days a week. So having a bike, or having access to a bike, allows you to ride along and use the bike to improve your health."
Vivian Howard lives at the Clayton Homes project. She owns a car but she says she doesn't have the money for a bike. So she plans on using a B-Cycle to go on bike rides with her kids.
"Well, my kids probably want to ride their bikes, so I'll pay the $5 for an hour and then ride their bikes with them."
Although she says she won't be able to do it right now for financial reasons.
To use a B-Cycle bike, riders can pick between several membership options: 24 hours is $5, seven days $15, and annual is $65. The first hour of every check-out within the respective membership period is free and every additional half hour is $2.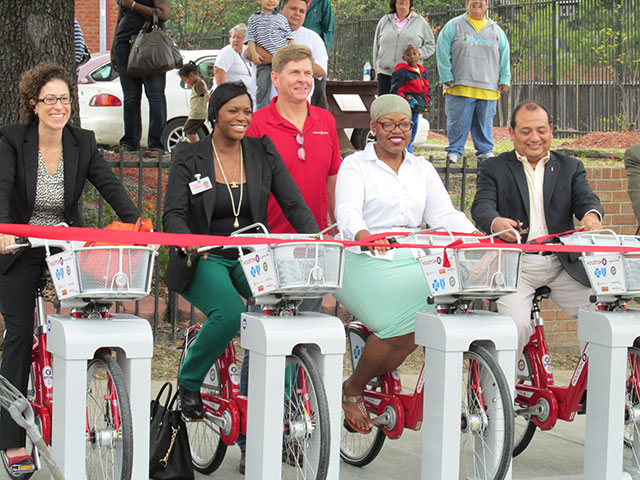 Will Rub, director of Houston B-Cycle, is in the red shirt in front.
Will Rub, director of Houston B-Cycle, says the program is going really well, which is why it keeps expanding.
"During the peak months during the spring and during the early fall when the weather is really nice, we were averaging somewhere around 1,400 to 1,600 check-outs a week. So that exceeded any expectations that we might have had."
He says the plan is to gradually add more stations in the East End as well as in the Heights, the University of Houston and Rice University among other locations.