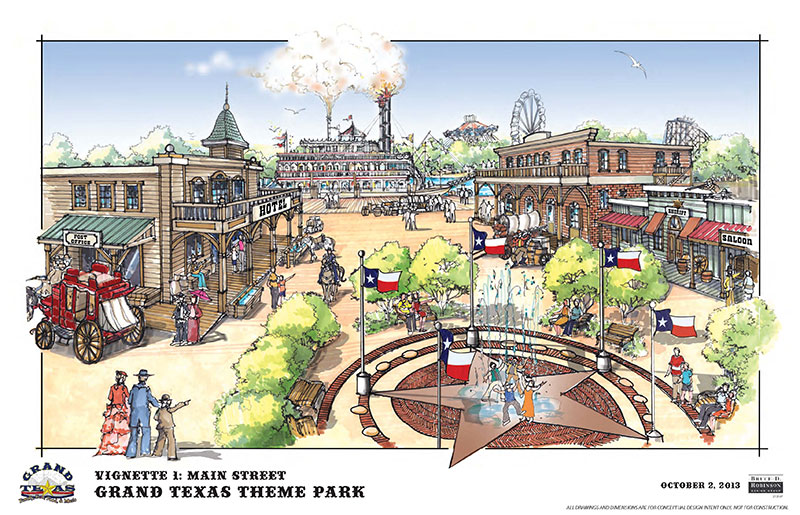 It's been a five-year journey for Monty Galland, CEO of the company developing the Grand Texas theme park.
After looking at several other locations for possible smaller projects, Galland closed on the sale of the 610-acre property on the northwest corner of US-59 and Highway 242 this summer.
"We were anticipating picking up a couple of hundred acres and it turned out that we were picking up 610 acres," Galland said. "And we realized that were had a tremendous opportunity. And so that is how the park's slowly evolved into the more substantial project that it is today."
The theme park will be part of the Grand Texas Entertainment District with a water park, a sports complex, retail and hotels.
The theme park will have seven areas based on different aspects of Texas history and culture. And of course there will be roller coasters and other rides.
Unlike AstroWorld, which was next to Reliant Stadium, the park will be quite a ways outside of Houston. But Galland says besides the size of the property, it was the natural setting that appealed to him for the park.
"We've got these wonderful woods that provide just wonderful screening, so you can actually... It's kind of like going to one set to another, and each of these sets is isolated from the other by these wonderful pines and oaks," Galland said.
He says he feels lucky to be able to be the one opening a new major theme park in the Houston area. Many have lamented the loss of AstroWorld since it closed in 2005 and have been eagerly waiting for another amusement park to open here.
"Six Flags felt that they had a pretty strong hold on the market, you know, the location in Arlington as well as San Antonio. And so I think that they didn't have... there wasn't an urgency to bring something back to Houston," Galland said. "And I think that many of the other developers or the other operators of theme parks just were still recuperating from the capital crisis. So we were able to take advantage of an opportunity and move forward."
Construction of the entertainment district should start in January. The plan is to open the water park in April of 2015 and the theme park at the end of that year.