Abbott has been in the national news since he thanked a tweeter, who called Democratic state Senator Wendy Davis a "retard Barbie" on Sunday.
After the exchange created a social media stir and was picked up by news outlets around the country, Abbott tweeted that he doesn't endorse offensive language from his supporters and deleted his earlier Tweet.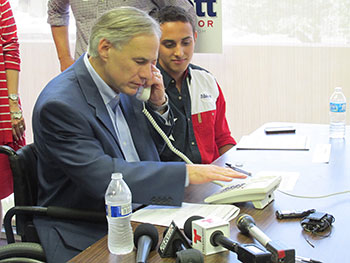 During a visit at the Harris County Republican Party headquarters, Abbott clarified his view.
"My first Tweet that I sent out, I did not read the offensive language that was on there. I was just ripping off thank-yous to people who seemed like they were indicating support for me. Had I read that first tweet and the language that was in there, I would have, for one, not responded the way I did, but also I would have corrected the language that I had seen."
Abbott, who's been in a wheelchair for almost 30 years, says that kind of language is inconsistent with who he is and what he represents.
"Let's be clear about this. I'm a guy in a wheelchair. I'm a guy who understands disabilities and people with challenges. I support anyone in this state or country who faces challenges and needs to deal with them, and I disagree with the language that was in that initial Tweet."
The Texas Democratic Party is demanding an apology from Abbott, who is widely expected to win the Republican nomination for governor in 2014.
Wendy Davis gained national fame for her filibuster of an abortion-restriction bill in the state Legislature. She hasn't officially decided if she'll run for governor or not but many think that she will.