"Hi, Meals on Wheels! Hey, how're you doing, Ms. Hall?"
Just like every other day, members of Interfaith Ministries for Greater Houston's Meals on Wheels program deliver lunch to one of about 4,500 households throughout Houston. This one goes to 86-year-old Jennie Hall in the Kashmere Gardens neighborhood in northeast Houston.
But today's meal is different.
"This is a little hurricane bag, you probably remember it from last year. We have a hurricane guide, a flashlight, just some things to help out in case there is… I'm praying we don't get a hurricane, 'cause, you know, I'm still having flashbacks from Ike, but, you know, in the event, you're all set to go."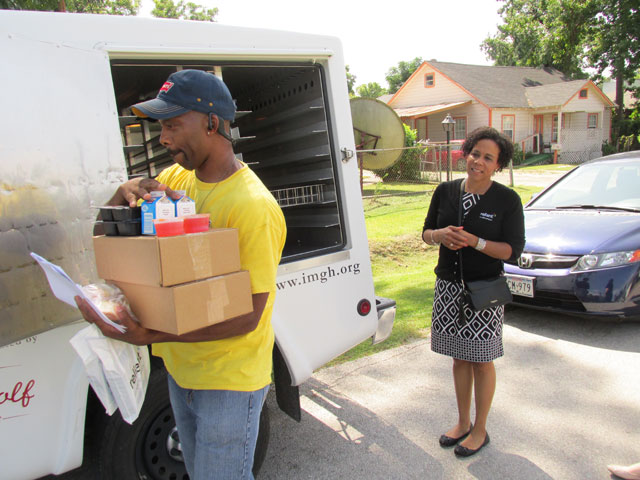 A Meals on Wheels driver and Misty White with Reliant deliver an emergency supply kit to Jennie Hall in northeast Houston.
Seniors also receive nonperishable food like peanut butter and dried and canned goods to keep in case disaster strikes and other food runs out.
Andrea Fineman is with Interfaith Ministries.
"The seniors that we see are homebound, they can't cook for themselves, they have difficulty getting in and around of the kitchen. And oftentimes, they don't have any family around, so they really rely on us for the food, and then if we can't get to them, someone may not be checking in on them. So it's really important that they get this food and information to make sure that they know what to do in case of an emergency."
Jennie Hall says she likes the service because she can't cook herself anymore and relies on Meals on Wheels and family to bring her food. She just hopes that she'll be able to keep the emergency supply long enough this time.
"'cause lot of times, if my nieces don't bring me something in the evening or something, well, whatever is in there I eat it, 'cause I just don't cook no more."
That might not be a problem if the next hurricane turns out like Ike in 2008. Hall says unlike many others, she didn't lose her electricity then and family and friends stayed at her house and brought food with them.