"You respond to a robbery in progress, as you identify a suspect fleeing from the building outside."
"This is the police. Stop right there! Freeze!"
"Bang, bang, bang!"
This is the sound of journalists – including this reporter – participating in a laser gun simulation of a "shoot or no shoot" situation by the Harris County District Attorney's Office.
It's the same simulation the office uses to train its own investigators as well as other law enforcement officers. And, every three months, it offers it to citizens who were selected to be part of a grand jury.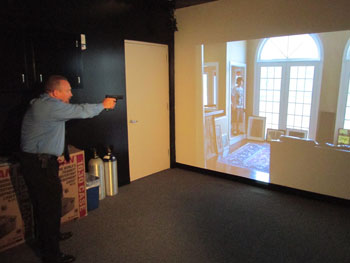 Julian Ramirez
Julian Ramirez is with the District Attorney's Office's Civil Rights Division, which investigates police-involved shootings. He says the agency has used the simulation to inform jurors for about 10 years.
"It gives the grand juries, we think, an insight into some of the split-second decisions that police officers are sometimes are called upon to make. Whether or not to shoot or not shoot in a given situation."
Along with the simulation, grand jurors are briefed on Texas's self-defense laws.
In Harris County, grand juries are selected for three month terms. Their job is to review criminal complaints and decide if there is sufficient evidence to indict someone – including in self-defense cases.
Ramirez says in officer-involved shootings and self-defense cases investigators with the District Attorney's Office do not make recommendations to the grand jury.
"That would require us to say, well, in our opinion, their use of force was reasonable, or it was not reasonable. Those questions are answered by the Grand Jury, they represent the community."
At the same time, Kirk Bonsal, an investigator with the DA's Office, who instructs grand jurors during the simulation, is happy to share his opinion on certain simulated situations. Like in this one where a suspect has his gun ready in his waistband and is threatening the off-duty police officer.
Simulation: "I don't want to kill you man, just give me the gun!"
"Bang, bang, bang!"
"This is my personal opinion, and if you're a concealed handgun license holder, you're ever going to defend yourself, I would never wait for somebody to get that gun out and come at me because tie never works."
Julian Ramirez says experiences like this are foreign to many jurors, and so putting them in a police officer's shoes hopefully gives them some greater understanding of the decisions officers often have to make.