On Monday at 6 p.m. community activist Quanell X stood in front of the funeral home next to an empty casket to demonstrate a young African-American male being sent to a funeral home from racial profiling. Just before 7 p.m. he announced that they will be marching not to city hall, but to the highway.
As a white hearse directed the march, eight protesters pushed the casket in front of hundreds of Houstonians chanting, "We're fired up and we can't take it no more."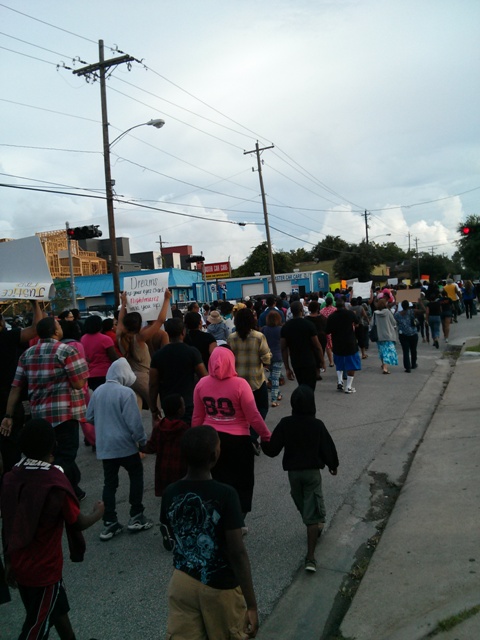 Houstonians marching along the streets in Third Ward toward the highway
After marching along the Southmore over pass on Highway 288 and blocking the intersection, demonstrators then marched down toward the southbound lanes. Only two ambulances were allowed to pass through. It was not until around 8:04 p.m. when heavy rain cleared the crowd from all lanes.
Though the march was seen as a good purpose to raise awareness to seek justice for Martin to supporters, some bystanders felt shutting down the highway was not the answer.
"This is actually what we shouldn't do for Trayvon Martin… causing riot like symptoms on a major highway is not a purpose for justice. Marching against the street is one thing, but shutting down a highway… how safe is this?"
Chris Adams, 35, told KUHF News Lab while standing outside his red Hyundai after all lanes were blocked.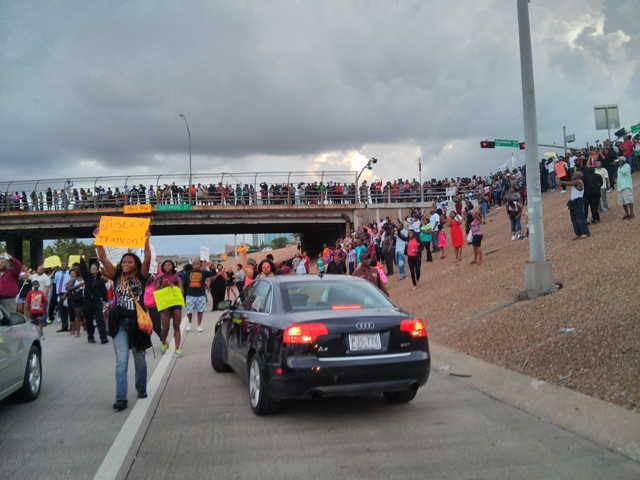 "Justice for Trayvon" was one of the several images displayed by demonstrators on the highway.
During the rally, powerful images were displayed and mothers shared their own personal Trayvon Martin story after losing a child.
Precinct Judge No. 201 Kathy Blueford-Daniels lost her son, 20-year-old Patrick Charles Murphy, seven years ago. Holding his picture in one hand, Blueford-Daniels told the crowd how her son was killed after being mistakenly identified as someone else.