In February, the NBA All-Star Game attracted a national audience. This weekend, thousands are coming for the NRA Annual Meetings and Exhibits at the George R. Brown Convention Center. Add to that recurring events like the rodeo in March and the Offshore Technology Conference that starts next week and you have a pretty busy year for the Greater Houston Convention and Visitors Bureau.
"Lately, we've been on quite a winning streak and we're doing very well."
That's Greg Ortale, president of the bureau. He says Houston has been on an upswing for conventions since about 2003 when the George R. Brown was expanded, but maybe more importantly, the downtown Hilton opened.
Ortale says four things determine a city's success as a convention destination: facilities, accommodations, transportation and attractions.
"And the accommodations is where we've had issues. People have become very convenience-oriented. They won't spend time on buses unless it's a massive show like OTC or something like that. They want to be able to walk, as quickly as possible get to where they need to be."
The two main facilities for conventions and other events in Houston are the George R. Brown and Reliant Park.
Ortale says the planned Marriott Hotel at Discovery Green will be another big step toward ending the hotel room shortage.
"There's a renewed interest in developing hotels close to the convention center and we're developing a campus up there. There's also an interest in developing out around Reliant Center."
As for now, all rooms are booked at the Hilton of the Americas downtown. The hotel's Tere Perry says this year is great for the Hilton in terms of occupancy.
"It's been one of our best years in the 10 years that we've been open. For example, right now during NRA we are 100 percent sold out. We were also sold out during the NBA All-Star Game and project being sold out also during OTC."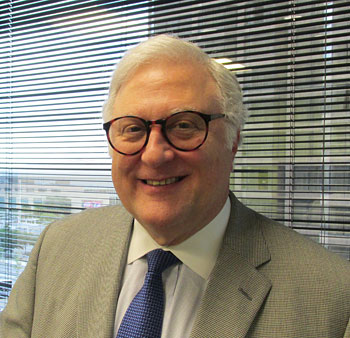 She says the Hilton doesn't consider the planned Marriott Hotel as competition. Rather, it'll help to bring more events and visitors to Houston.
Ortale says with the Marriott, there will be 6,000-plus hotel rooms downtown. That compares with 13,000 in San Antonio – also a popular convention destination.
"San Antonio has the 'flood control project' that runs through the middle of their city and they managed to put a few restaurants around it and some hotels and some other stuff, and it's very successful, there's no question about it. On the other hand, we have as competitive a product as any other cities in Texas certainly."
But Ortale says in order to remain competitive, Houston has to continue to be vigilant and adjust to changing demands.