Parts of Katy, in particular the Cinco Ranch community, are sometimes referred to as 'Katyzuela' because of the high number of Venezuelans who live there.
Two small restaurants, Delis Café and Budare Arepa Express, could be considered the social centers of the Venezuelan community in Katy.
Delis Café owner Belén McDaniel says her customers often talk politics and are divided in their opinions of Chávez.
"The half of the community, they support Chavez, and half not. Same thing in Venezuela."
She says as a human being she's sorry about Chávez's death, but she sees it as an opportunity for much needed change for her home country.
Manuel Vega, owner of Budare on the Grand Parkway, says he's long opposed Chávez's politics. He thinks nothing will change after his death.
"[The] people he left, they are violating the constitution again, even though the constitution said that the president of the Congress has to take place of the president until they call in 30 days for new elections. What they did today? They appointed the vice president as the president in charge."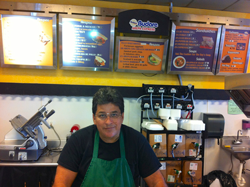 Vega says 90 percent of Venezuelans who come to his restaurant oppose Chávez and his politics.
Not suprisingly, views are different at one of the two memorial services for Chávez that the Venezuelan consulate has organized in Houston.
The mass at Saint Cyril of Alexandria Catholic Church on Westheimer attracted merely 25 mourners. But Consul Marisol Gutierrez says many more Venezuelans in Houston have expressed their condolences.
"Many people called us and told us that [de]spite they will not be present here, they are with us in their prayers and in their souls."
Gutierrez, who is Venezuela's top diplomat in Houston in the absence of Consul General Calixto Ortega Sanchez, would not comment on the political implications from Chávez's death. But others were more willing to offer their opinions.
"I think it's a new opportunity to reestablish the relationships."
This is Andreina Landis, who says Chávez did good things for the poor and included many in the political process who hadn't had a voice before. But she acknowledges that Chavez was very controversial.
"As a Venezuelan, I want to see those relationships established with the government, with the embassies. [I want] to see the ambassador back in here in the United States and the ambassador back over there in Venezuela."
Chávez was president of Venezuela for 14 years. He died on Tuesday after a long battle with cancer.