"So this is McCarty, right off of I-10 East. We're headed towards the ship channel."
Adam Chaney is with Elijah Rising, a Christian organization that offers what the group calls "awareness tours" to anyone who's interested. Passengers get into a big white van and are taken through areas of Houston with high numbers of suspected prostitution businesses.
Besides the ship channel, our tour takes us to an area south of the Galleria and also Telephone Road in the Gulfgate area.
The van stops in front of some businesses and Chaney talks about what he has learned happens inside. Like at this "massage parlor" in the 5800 block of the Southwest Freeway.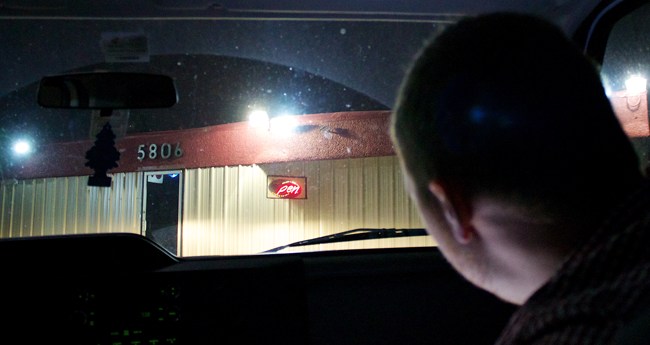 The tour focuses on numerous businesses with the address 5806, a biblical allusion to Isaiah 58:6. The verse references divine intervention and salvation for the enslaved. Gerald Rich, KUHF Newslab

"So you pay the door fee, they let you through that locked door, and you'll enter into a second room. The door locks behind you, and they bring the girls into that room with you. And you essentially line them up and select whichever girl you're interested in."
The group conducts outreach missions to convince prostitutes to escape their pimps and start a new life. One part of that is driving to different brothels with small gifts for the girls and chatting with them. This happens with the consent of the "madam" of the establishment, or ,mama-san as she's called in the Asian brothel business.
"A lot of the mama-sans have gotten to know our team, and for them, it's a morale boost. You know, they see it as a morale boost for the girls. But for us it's being able to invade the kingdom of darkness."
The Elijah Rising team also approaches prostitutes on the street or through backpage ads. They arrange sessions with prostitutes, meet up in a room, talk to them and offer a helpline number.
"And that's been extremely successful. We helped four girls exit last year, and we've just contacted our third girl this year."
Chaney says he considers all prostitution "human trafficking" and therefore for him stopping prostitution is essential to stopping human trafficking.
Obviously, this kind of work is not without risk. But Chaney says he's not afraid.
"When your heart is so in love with the Lord and you're really on fire, and you really want to see… When you really see this girl as a victim of abuse and you have the ability to save her life, what is there to fear?"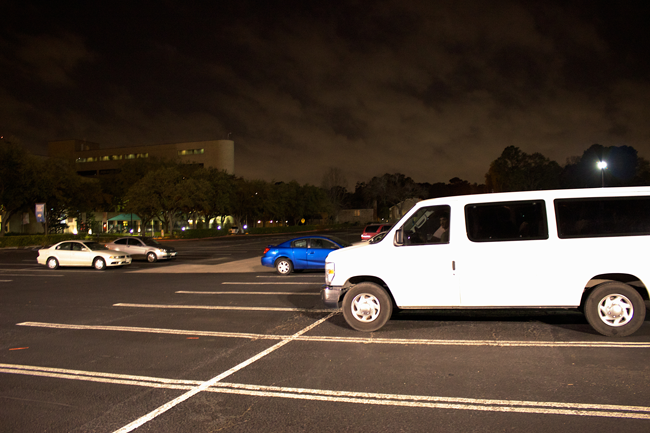 Elijah Rising begins their tour in the parking lot of First Baptist Church off of the Katy Freeway and slowly makes its way across town. The nonprofit added that the van with tinted windows sometimes intimidates would-be customers. Gerald Rich, KUHF Newslab
The group wants to make sure it's understood that their mission is not just humanitarian but first and foremost faith-based. And so the second-to-last stop of the tour is somewhat of a surprise. It's not a brothel but the Planned Parenthood headquarters near the University of Houston. Like many Christian groups, Elijah Rising disagrees with some of the health care provider's services.
"And we just like to draw that connection, because for us, our mission is Biblical justice. Human trafficking is just one aspect, the primary aspect of what we do. But really we're a community that wants to bring Biblical justice to our society."
Chaney says raising awareness for the issues of prostitution and human trafficking is crucial in their mission to stop these crimes. He says the van tours are a great way to do that because it brings passengers to the frontlines.
---
Pan and zoom over this mini-map of the Houston-area to see alleged trafficking hotspots. Contour lines were created based on the density of unlicensed sexually-oriented businesses. To create the lines, the city was broken up into three-mile segments. Each contour line represents a report of a sexually-oriented business, with densely-packed lines signifying a greater concentration within the area.
While it's difficult to locate businesses involved in this shadow economy, or black market, this map is meant to provide general information on human trafficking in the city. Locations used for this map were researched and identified by Children at Risk, then cross-referenced against sites where they advertise like rubmap.com or backpage.com.
Hover over or click unfamiliar streets to view its street name. View a full screen version of the map here.