"The East End has 134 railroad crossings…"
Juan Parras moved to the East End forty years ago. He's a long-time community activist in the area and heads up TEJAS, Texas Environmental Justice Advocacy Services. Parras has been doing what he calls his toxic tours through neighborhoods along the Ship Channel for four years.
"It's good because you know, when you see something visually, it says a lot more than me trying to explain our neighborhood to you."
The goal? He wants people to open their eyes to what he believes are gross inequities endured by the predominately minority residents of Houston's eastside. Here it's normal to see industrial flares from front porches, and to wake up to paint particles from the nearby scrap metal shredding facility floating into homes.
He takes us down Navigation, along the bayou in Magnolia Park.
"I wanted you to come through here because you're going to see one of the shredding facilities that shreds cars into tiny tiny little pieces of metal. It comes into this community here, and they don't like it."
Parras says the facility should never have been built. He says people came out in droves to protest the Ashby high rise in the more affluent part of town.
"And there was a lot of complaints, you know, the citizens obviously didn't want it. And at the same time they were building this…."
He points to the four-year-old shredding plant.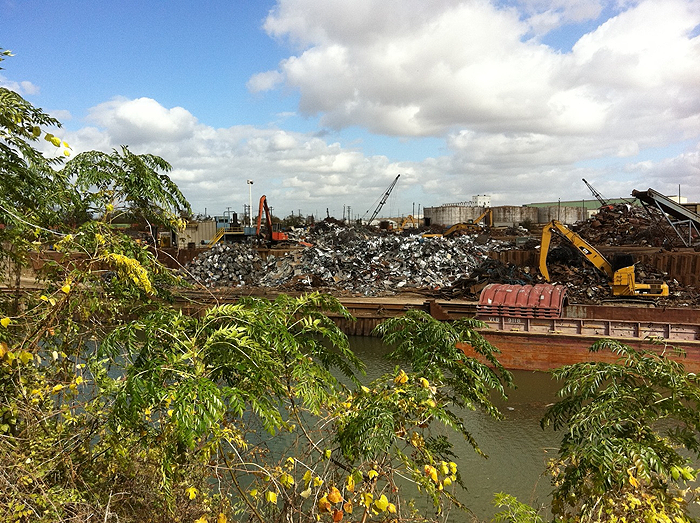 Metal shredding facility along bayou in East End
"…And sometimes it gets real real high, you know, just a pile of cars here. And so we call it our Ashby high rise. But even though we protested, you know, we got it anyway."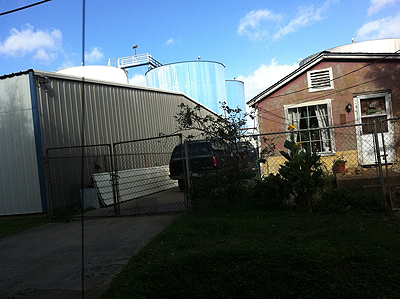 House next to animal feed manufacturer in Old Town Harrisburg
Next, he takes us through Old Town Harrisburg on the eastern side of the East End. What was once the capital of the Republic of Texas is now a patchwork of worn homes neighboring on steaming industrial plants. Most of the houses were built in the '40s and '50s, long before the industrial facilities came along. Its three square miles are dotted with stainless steel tanks that belong to an animal feed manufacturer and industrial smokestacks owned by the neighborhood refinery.
"This area has a lot of benzene and butadiene. There's a lot of asthma, a lot of cancer, a lot of leukemia, a lot of brain tumors."
Since no environmental alleviation measures are required, factories can set up shop without having to pay for the toll taken on the immediate community.
"We're actually headed to Buffalo Bayou on the Eastside of town. The difference here is that, when you consider Buffalo Bayou on the Westside of town they're always doing conservation work, they're fixing it up, they're making it look beautiful… and this is our side of the Buffalo Bayou and it gets very little attention."
Parras averages about one tour every couple of months. He also shows his passengers the petrochemical complex along the Ship Channel, and takes them to some schools situated in close proximity to industrial plants. One, Cesar Chavaz High School, sits less than a quarter mile away from three petrochemical facilities.
Parras wants to put the spotlight on these underserved, too often ignored residents of Houston, who live side by side with the factories that drive Houston's economy and bear the brunt of the pollution that spews from the city's industrial complex.
From the KUHF NewsLab, I'm Wendy Siegle.
For more on this story, visit Transportation Nation. KUHF contributes to transportationnation.org, a public radio reporting project. "Transportation Nation combines the work of public radio newsrooms and their listeners as the way we build, rebuild, and get around the nation changes."