Hundreds of people came along to the meeting, which was held at the George R. Brown Convention Center. A lot of folks showed their solidarity by wearing red t-shirts to the meeting, signifying their opposition to the retail giant's proposed location of its new store. Margie Dalton was one of many who arrived in red.
"I hope it's an orderly, fair-minded discussion, open discussion."

When the event began, hundreds took their seats, but many were left standing. Mayor Parker kicked off the evening.
"We have been listening, and we get it. We want economic development in the city of Houston, but we don't want economic development that either causes us more neighborhood problems down the road, or occurs in such a way that destroys the residential neighborhoods around it."
Mayor Parker made it clear that because of the lack of zoning the city is limited in what it can do to prevent the development.
"The city cannot stop a development on a site, nor can we pick and choose the tenants on a site."
Houston-based Ainbinder is developing the project. CEO Michael Ainbinder unveiled the plans of the proposed Walmart to a not so happy crowd.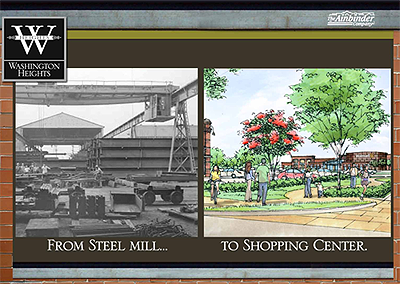 (Sound of Booing)

He pressed on to show visuals of what the Walmart might look like and was careful to point out how it would differ from the average Walmart. He assured the crowd the architectural style would complement the area with enhanced landscaping and improved roads.
It will be a very attractive good-looking store with lots of pedestrian connectivity to allow pedestrian and bikers to get around the site safely. And we think you'll be surprised at how attractive it's going to be.
Ainbinder says the complex would mix national retailers with local businesses:
Walmart is only a part of this project. They are the anchor tenant, but they are not the only tenant.
Ainbinder estimates there would be around 25 to 30 other retailers in the complex. Jeff McAllister is the vice president of Walmart's Texas Division, the company's largest market. He says if the development goes ahead, residents in the area can look forward to spending less on groceries, even if they don't shop at Walmart.
"I'm quite confident that we will bring lower costs to goods, whether you choose to shop in our store, or in our competitor's store, we will lower the cost of projects that you will need in your community by being present."

But according to some at last night's meeting, it's going to take much more than lower prices to assuage community anger. Only five or six people were able to stand up and ask questions at the end. Although several stations were set up along the walls for people to voice specific concerns, others were disappointed that they weren't able to do so in the open forum. James Anderson lives in the Heights.
"It seems to me like this meeting was a lot of lip service. We were hoping to have sort of a civil dialogue about this. So, we'll see. I mean, people aren't going to give up the fight.

Wendy Siegle, KUHF News.