In the conference room of Blueware, an IT consulting firm on the west side of Houston, there are notebooks, pens, a laptop, plus a few unusual guests.
"This is Missie, and she's an almost 13 year old dachshund."
Today is Take Your Dog to Work Day, and the pups are here for a photo opp-like the furry attendees of a rambunctious board meeting. Missie is a little short for the table. Hazel keeps drooling on her chair. And two pitbulls are doubled up on one seat-quite happily.
"Stay…stay…get it! Aw….."

You've probably heard of Take Your Child to Work day, where little tots can glimpse the rigors of the work world. Michael Rowell, the marketing coordinator for Blueware, says this is a little different:
"A lot of our animals are shelter dogs, a lot of our owners have, just coincidentally, shelter dogs, and it's to benefit the shelters and raise awareness that when you want to buy a dog, you don't have to go out and buy the brand new puppy at PetSmart and that there are shelters all around Houston overflowing with dogs that need a forever home."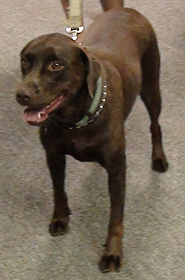 The organization PetSitters International started Take Your Dog to Work Day over 10 years ago, and say they have participation in almost every state. This is Blueware's first year, and Rowell says the company is reaching out to BARC and SNAP in Houston.
"In order to bring your dog to work, you had to bring a 20 pound bag of dog food. And even if you didn't have a dog, like myself, you could. So we'll have somewhere between 160-200 pounds of dog food to donate to BARC."
"Hazel sit, Hazel speak, speak! Good girl!"
Controller Rebecca McShane found her dog Hazel, a chocolate lab, abandoned in a friend's yard. She thinks having dogs in the office is a great way to raise awareness about homeless pets and have fun. That is…for one day a year.
"I think I've gotten almost nothing done, almost nothing. We're trying to make it to lunchtime. That's it. We're going home!"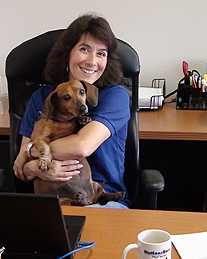 According to a recent survey, nearly 1 in 5 companies in the US allow a pet in the workplace. Sales manager Stuart Henderson thinks it could work.
"If it's done frequently, having animals around makes for a much more peaceful environment. They lay in the corner during the day and get a treat once in a while, and it just seems to increase the whole familiarity and family feel of a professional office."
It looks like today has been pretty uneventful-only one little spate of barking.. There was the time that Missie, the dachshund, tested the carpet's resilience, as one employee told me. You know what that means.
From the KUHF NewsLab, I'm Melissa Galvez.