"If you're going into business and you're looking for a location to open anything, I'm sorry but the number one thing, other than demographics, is parking. If you don't have parking, then you're not going to have it."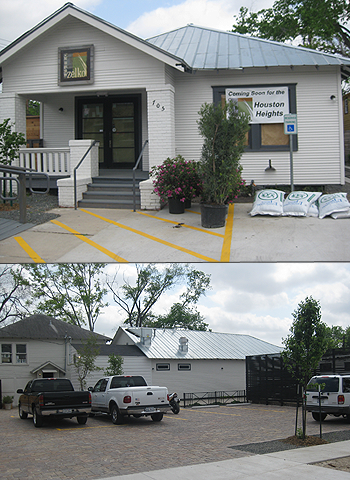 Houston-born chef Jamie Zelko is opening her very first restaurant today on West 11th street in The Heights. Zelko Bistro was supposed to open last year but eager foodies had to wait while Zelko struggled with the various city codes that have to be met when converting an old house into a restaurant. The off-street parking law was one of the toughest.
"Off-street parking was difficult because you are required to have eight spots per thousand square feet. And we are a 1920s bungalow so we had to look for other options."
Zelko Bistro is 1700 square feet, meaning it has to provide a minimum of 14 spaces that aren't on the street. That was hard for Zelko since her restaurant is situated on a residential-sized lot. She says there's plenty of parking on the street, but the city doesn't take that into consideration. In the end, Zelko had to come up with $33,000 to build a compact lot on the property and is also shelling out a monthly fee to lease a lot nearby.
"The off-street parking, it was actually a pretty big hit for us." Zelko isn't alone. Many small businesses struggle with Houston's off-street parking rules. The ordinance has barely changed since 1989. This is Marlene Gafrick, director of Houston's Planning and Development department. "We really haven't done a rewrite of the ordinance, or really looked at it, and our development trends have changed."
Houston is undoubtedly growing; more people are moving inside the loop, and more businesses want to open up shop here. So on the one hand, Houston has an increase in dense, walkable areas; and on the other hand, city laws haven't caught up with the trends and are still based on the assumption that everyone will be driving.
The Houston Planning Commission is now reevaluating the off-street parking ordinance. At a recent public meeting in The Montrose, parking concerns clashed. Homeowners don't want people parking in front of their houses to go to nearby businesses, small business owners want to lower the minimum off-street parking requirements and others worry about not having anywhere to park.
"I think the best solution for Houston would be to completely discard the parking ordinance and to not have any parking requirements at all."
That's urban designer Andrew Burleson. He takes a free-market approach and suggests letting businesses decide how many parking spaces they need to make their customers happy. That way, valuable land won't be wasted. Homeowners, he says, can petition to have parking meters installed, which could deal with any overflow onto nearby streets.
"If you try to micro-control it, you end up with a situation where your regulation becomes so onerous and complex that it's paralyzing for businesses."
While it's unlikely that the city will embrace Burleson's "no ordinance" solution, planners are looking at a variety of possible amendments—more parking meters is one of them. Others include reevaluating how far people are willing to walk to park, revising the parking ratios for businesses, and reducing parking requirements along transit stops. Bar owner Steven Scalice offered his two-cents at the meeting and says the city should require more shared parking lots, like the one in Rice Village. There, people pay to park in a garage and some businesses validate the tickets.
"Everyone wins. It solves the problem for parking; it solves the congestion problem."

Wendy: "So instead of having multiple lots all over the place, you can have one lot shared and maybe multi-level even."

"Exactly."

The Houston Planning Commission confirms it's also considering shared lots in the review. To find out how you can give your input, visit www.houstontx.gov/planning/offstreet/index.htm.
From the KUHF NewsLab, I'm Wendy Siegle