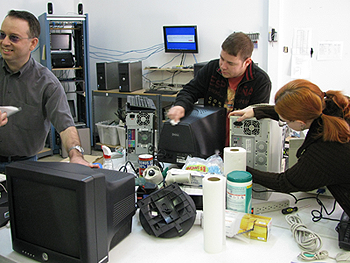 "So our test start day is today…"
"Ok…"
"You put your name there, you're the technician…"
In a warehouse in the Heights on a sunny Saturday morning, Hunter Osha is teaching me to be a computer technician. I have no background in this, but he is reassuring.
"How long is this going to take?"
"Just a few minutes"
Most Saturdays, novices and computer professionals alike-all volunteers-drop by the office of Comp-U-Dopt to reprogram, clean, and sort donated computers. Very soon, they'll be given to students from across Houston who don't have access to a computer in their home. To apply, students write letters saying why a computer would help them.
"This is from Brandon. My mom has 6 kids including me. We always have to use the computer at the library, and we each have only 60 minutes on the library computer. We never have enough time to finish what we have to do for school. It will change my life if I have a computer in my home."
Using a computer seems so normal for most of us, that it's easy to forget we have to learn those skills. Osha says that for disadvantaged students, having access to a computer is critical.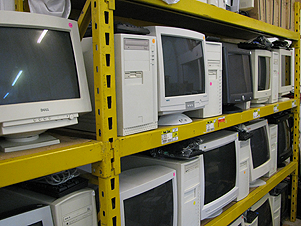 "It's not only just to have a word processor to do your homework. Children today, even though they spend a lot of time playing games and surfing the internet, they are also becoming very facile with how you deal with electronics, how you interact with software. And the children who don't have that opportunity are at a huge disadvantage when it comes to entering the job market."
But Comp-U-dopt doesn't just meet the needs of students. Osha founded the organization after he realized his law firm had no good way to get rid of their relatively new, but out of date computers.
"Average obsolescence of a computer in business setting today is 2 and a half years. So it's quite fast. And currently 86% of those machines are going into landfills. So there's a huge opportunity. A two and half year old machine is still a great machine from our perspective."
"Stop right there, before you go any further-you got a key missing."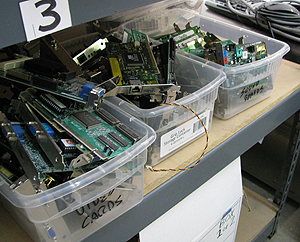 Comp-U-dopt completely wipes the hard drive of all computers it gets, so businesses don't worry about compromised data. And it even provides an opportunity for young techies. Rachelle Hademenos is student at ITT Tech, who likes that she's helping kids AND practicing her career.
"It's getting hands on experience with desktops, I'm getting to see first hand some of the problems and how to solve them."
Comp-U-dopt asks students and their parents to attend a 2 hour training session, to make sure they're ready for their new tool. After, they write a thank you letter to the donor. A student named Samuel wrote: "Now this will help my future. I never would have thought that there was a company that would give computers for free"
To learn more, visit Comp-U-dopt.