"Good morning Mr. Ambassador, distinguished guests, ladies and gentleman, my name is Col. Carpenter, I am the U.S. Transportation Commander…"
Except he's not, exactly. Anthony Carpenter is in Air Force ROTC and a senior at the University of Houston. His National Security Studies class is in the middle of a "war game" — where students respond to a simulation of a real life crisis. In their classroom, a wall of computer screens blink with maps of Turkmenistan and charts of medical supplies. Theirs is actually a humanitarian crisis: an asteroid has crashed into the Caspian Sea, and a tidal wave has destroyed everything for 5 miles around.
"As of last week, we have had 2.75 million civilians requesting aid…"
That's UH junior Chris Durham, acting as the public affairs and protocol officer. The students take this simulation seriously — they even had MRE's, or meals ready to eat, for lunch-preparing plans for refugees, terrorist attacks, and cholera outbreaks.
"Before it even came in, we started working on our plan, and so once the asteroid hit, we're sitting there, ready, we've got medical aid, we've got food, we've got water, so whenever these people do start requesting aid, everything's in place, and we start providing aid."
All Air Force ROTC cadets take the National Security Studies class during college. But this one is different, because it combines cadets with civilian students, and it is the only one in the country to run a war game. Col. Phil Bossert got a research grant to plan the exercise, and Air Force ROTC headquarters is now considering expanding it to all their programs. Bossert says the war game emphasizes interagency cooperation.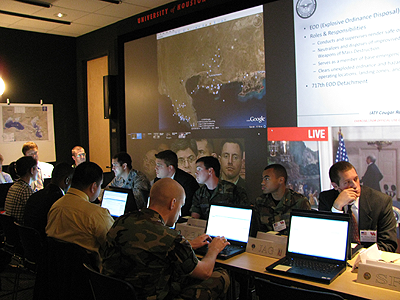 "Perhaps the overarching theme is that some of the national security challenges facing our country today are so vexing that teamwork across different organizations, military services, is more important today than ever before."

To that end, every student has a different role to play, from special ambassador, to 4 star general, intelligence, or operations.
"I am Col. Ashley Thompson, and I'm the Civil Affairs officer…"
"Excuse, could I get you to come sit? We have an issue…"
Col. Thompson's briefing is suddenly interrupted by a report of a mortar attack on one of their bases. The students rush to their war table to decide what to do. Some of them have already served in Iraq or Afghanistan, so they fire out ideas. Col. Jeff Ragland is an Army Reservist who helped design this war game.
"It's incredibly complex…the guy briefing security forces, The guy that would do that in an operational environmental would probably have been doing it for 20, 25 years."
But these college students are trying to aid 3 million people before the end of class.
From the KUHF NewsLab, I'm Melissa Galvez.