Go into any garden store at this time of year, and you'll be greeted by a Christmas army: rows upon rows of evergreen trees. The smell of pine and cut wood is in the air. These guys love the cold-but not the palm trees, pansies, and potted plants you may have out in your yard.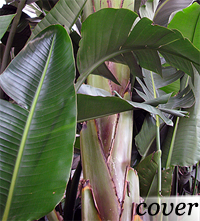 "This isn't going to do that well when it's freezing."
That's Kim Hooper, Vice President of Houston Garden Centers, with a giant bird of paradise plant. With only one night of freezing temperatures, she says we shouldn't be too worried, but that frost can damage plants, especially tropicals and "succulents", like orchids or lilies. Hooper says it's good to prepare.
"The one thing that we do recommend is that everyone waters their plants in their yard very well before, because just think of it as hydrating. Because when you're hydrated, that's when you're the strongest."
Hooper also says you should cover your plants before nightfall. She prefers a specially designed freeze cloth, but there are other options.
"If you're unable to get any kind of freeze cloth, just you can use a sheet, or whatever, just something to protect the frost from getting in there. It also creates some insulation, that igloo effect. All you're looking for is maybe 1 degree or 2 degrees."
Some gardening websites recommend creating a small frame on which to put the cloth, or setting out pitchers of water during the day to collect heat, which then radiates back out at night. Hooper says it's also a good idea to bring any potted plants inside.
"I just had my driveway redone, and I had neglected my plants, my flowers, and so now I'm trying to get to the yard."
Eunell Webster says she's been gardening pretty much ever since she retired-16 years ago. She was picking out some new pink azaleas, and didn't think she'd cover them this weekend-but then, thought better of it:
"It is supposed to be getting pretty cold tonight, so, gotta protect them, I'm spending too much, can't just throw it away."
So the nice red poinsettias on your porch? Bring them inside. The wreath, however, can take a little Christmas snow.