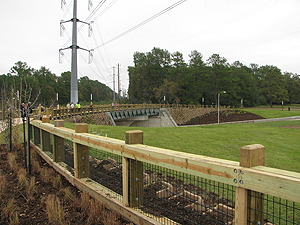 It doesn't look like much right now: just a nice, clean overpass, dotted with a few flowers and plants, that spans Memorial Drive at the west end of the Park. But give it 2 to 3 years, and this bridge will come alive with greenery. This is Paul Weathers, a principal architect with Clark Condon and Associates, which designed the Living Bridge.
"We've actually created planting beds on the bridge itself. There's 3 feet of earth that we can plant in, to allow shrubs, small trees, vines, to grow over the span itself and drape down over the roadway."
While the bridge serves a very practical function-allowing pedestrians to cross Memorial Drive safely-the designers really wanted it to blend into nature: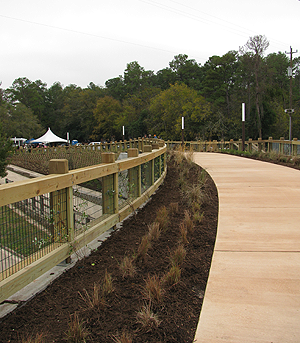 "That's really our vision, to have the bridge disappear. You won't see the handrails, you won't see the guardrails, and we expect to see this thing turning green as vegetation literally just takes over the bridge."
The Living Bridge is phase one of the three part, $10 million Memorial Park Capital Campaign, a partnership between the Houston Parks Department and the Memorial Park Conservancy. Supporters hope it will encourage people to explore more trails, and put their cars in unused parking lots. Ian Rosenberg with InFill Planning and Development says the bridge will fit right in.
"As you move across the bridge, you don't even feel like you've left the ground of the park, it feels like Memorial Drive has become a tunnel underneath."
From the KUHF NewsLab, I'm Melissa Galvez.