(Sound of a bell).
Priest: "Therefore we proclaim, the mystery of faith."
Chorus: "And Jesus…"
If you step into Our Lady of Walsingham Catholic Church on a Sunday morning, you'll see familiar images: statues of the Virgin Mary, a picture of the Pope.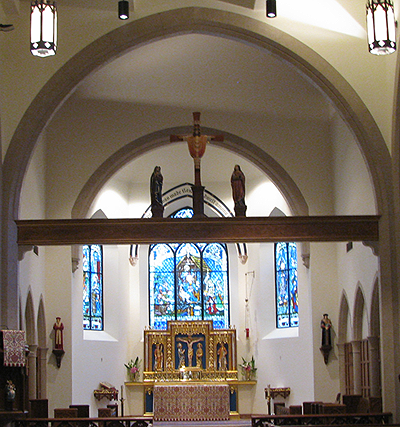 But if you listen closely, you might notice some differences. Walsingham is a part of the Archdiocese of Galveston-Houston, but preserves traditional Anglican rites and liturgies. One of those is the Prayer of Humble Access, said before Communion.
Congregation: "We do not presume to come to this, thy table, o Merciful Lord…"
Father James Ramsey co-founded this West Houston church in 1982. He had been an Episcopal priest — which is the American branch of Anglicanism — but he says he felt "called" to the Catholic Church. So he and about 20 other priests petitioned Rome to allow them to convert and bring their traditions with them.
"Because our Anglican tradition brought us to Catholicism, and having grown up with this, and it being a part of your spirituality, your outlook, your speech, this is a tradition that's worthy of being preserved."
Pope John Paul granted a provisional agreement, which allowed Walsingham and about 8 other American churches to form. Father Ramsey says it was a big step at the time.
"And that's what was so historic about it, because it's the first time since the Reformation that the Roman Catholic Church has readmitted, and let back in so to speak, a Reformation body, and said 'You can bring your Reformation traditions with you.'"
(church music).
"Well I really love our music. My spirit just kind of soars when they take off…"
Nancy MacArthur was born Catholic, but says she likes the more formal language that the Anglican rite uses-words like "thee" and "thou."
"What really attracted us was the beauty and reverence with which the mass is celebrated. It kind of puts us in the proper place, of where we are in the hierarchy of things."
Pope Benedict is now offering a permanent place for "Anglican Use" churches within the Catholic Church. The Vatican says it's responding to Anglican requests for such a union. Some Anglicans have been uncomfortable with issues such as the ordination of gay bishops and theological controversies. Walsingham parishioner Don Dean says that in part motivated his conversation to Catholicism.
"We were first concerned with all the problems in the Episcopal Church, and we had a misunderstanding of the Catholic Church at the time. And when the Anglican use came along, that looked like the door and made it easy."
(Sounds of church bells).
Father Ramsey says that before, churches like his were welcomed, but still somewhat "stepchildren" within the Catholic Church. Now they have a place to belong.
From the KUHF NewsLab, I'm Melissa Galvez.