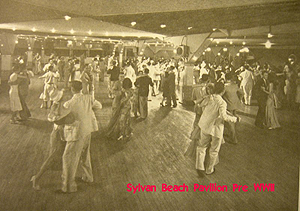 It was the beginning of the 1930s. Jazz music was flourishing and the big band, swing era was taking hold. And here at Sylvan Beach in La Porte, the Park and Dance Pavilion was enjoying its hey day. La Porte was the last stop on an old train line then and touted the largest dance pavilion in the South. Folks would come from all over to hear music, dance and socialize. The park has seen three pavilions since then, and the last one, built in 1956 is the focus of a community organization that wants to see the pavilion and the park maintained.
"Public access to Galveston Bay is very limited. Most of the shoreline is in private hands. And so, Sylvan Beach Park is unique in that it provides 22 acres of public access to the bay."
That's Ted Powell. When he's not working as a chemical engineer at Exxon Mobile, he's the president of the group Friends of Sylvan Beach Park and Pavilion. Powell and fellow member Kathryn Aguilar are concerned the pavilion will be demolished and that something new will be built in its place. But Powell says his group has been successful in galvanizing residents in support of the pavilion.
"We actually had one high school student who stood up in front of city council and spoke passionately about wanting to save the pavilion, which was to me, almost brought tears to my eyes."
The pavilion has been closed since Hurricane Ike. But Aguilar says the damage to the venue was mostly cosmetic. The maple dance floor, she says, is still in good shape.
"It wasn't buckled, it was flat, the whole structure, you could see the integrity of the structure because it was this amazing open space and it was perfectly level."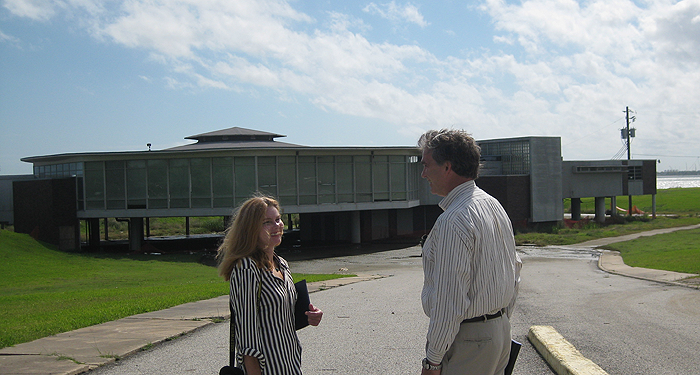 The City of La Porte has been leasing the pavilion from the county. But recently, city officials voted to terminate the contract and to turn it back over to the county. Mark Seegers is the spokesperson for Harris County Precinct Two Commissioner Sylvia Garcia.

"It is, technically, a pending legal matter as it's being reviewed. So in terms of the status of the pavilion, we cannot make a comment."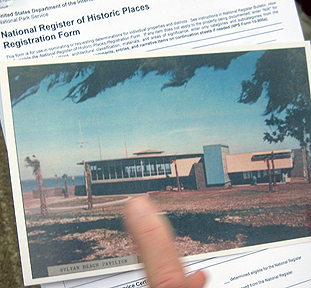 Seegers says no decision has been made on the fate of the park and the pavilion.

"The commissioner continues to, as she has been throughout this process, evaluate Sylvan Beach Park on the whole to determine what's the best use of the space."

Meanwhile Powell has submitted paperwork to the State Historic commission in an attempt to make the mid-century modern pavilion a registered historical place. He says he hopes one day, the park and pavilion will be brought back to how it was during its glory days.
From the KUHF NewsLab, I'm Wendy Siegle.