In many ways, Francis Poole Knight is just like any other competitor-except that she has 2 artificial hips. This can lead to some unusual problems. Before her recent swim meet, she went to check out the pool: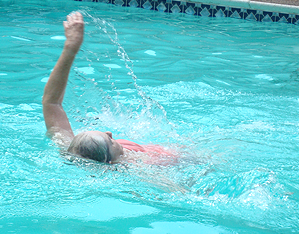 "I said listen, I'm going to be competing here next month, and I'm really nervous about, I can always get in the pool, but I can't always get out of the pool, can I get in and see if I can get out? So I had to know…this was a need to know kind of thing.
'You don't want to be at the end of the race, and sort of saying…'
'That's right…hey I'm still in here!'"
Knight jokes that because she's a Pisces, born on Galveston, she was destined to love the water. She started winning blue ribbons back in summer camp, and then as a young woman, joined a synchronized swimming team, called "The Corkettes" at the old Shamrock Hilton Hotel in Houston. She says that just being in the water has always given her energy:
"After my swim, man I feel like I could just whip the world. It just gets you going, and equals out all the things that are not working out jut right yet, this day. It's just wonderful"
The busyness of raising a family kept Knight from swimming for a while, but in her sixties she picked it back up again to relieve stress. But she wasn't content with any old lady swimming:
"I would find myself, when I work out, if I see someone in the lane next to me, I'll try to beat 'em. Doesn't matter who it is, could be a guy, who's you know, 30, or could be an old lady like me…So that competitive spirit is still there."
So one night she went online and-without telling anyone-registered for a senior swim meet. To her surprise, Knight won a silver in the 50 meter breaststroke, and a gold for that event at the Texas state finals. That qualified her to join nearly 10,000 senior athletes at the National Senior Games in August.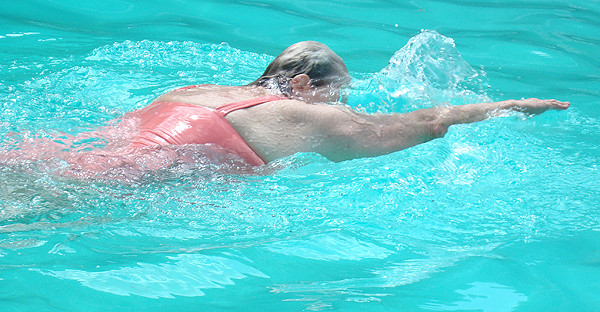 In the 2008 Olympics, American Dara Torres won silver in the 50 meter freestyle with a time of 24 seconds. At the last Senior Games, the gold medalist in Knight's age bracket came in at 36 seconds. Knight's best time so far is a little over a 1 minute-but this is from a woman who trains all by herself, for fun, with 2 artificial hips.
"Come on in, the water's fine"
Knight says she's nervous about the games, but whatever the outcome, she's got bigger goals-100 meter races, the butterfly stroke. In the end, swimming for her is about joy:
"I was born in 1936, so I'm an old broad by now, but what the heck, I'm having a lot of fun"
From the KUHF NewsLab, I'm Melissa Galvez.