"This is a picture looking at the boat, here's the charthouse, here's the 37 mm gun on the bow…"
Clyde Combs, who's from Houston, is showing me a picture of the exact boat he rode on, 65 years ago. It's called PT-515, for "patrol torpedo", but they also called it "Boomerang" Because they always come back.
"This is our radioman, Bill Tims, and Bigler, and Red McClosky, he was our torpedoman…"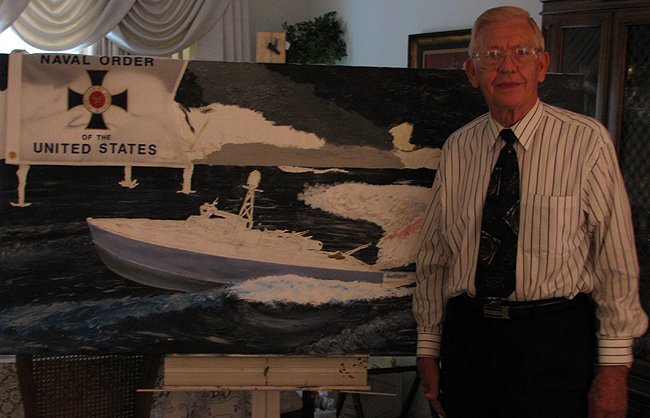 In June 1944, Allied forces came ashore on the beaches of Normandy. The PT boats' job was to guard the English Chanel, ready to torpedo German ships. Combs, who's 84, was there for D Day, and he stayed on patrol until the fall. He is being honored in France this weekend.
"War is as near to hell, I suppose, as can be."
85 year old Terrell Boyd also remembers D-Day. As a member of the 359th Infantry, he plunged into the frigid water on June 6th, dodging underwater barbed wire, mines, and German machine gun fire to get to Utah beach. And with all his gear, he could also have easily drowned:
"Look at it this way. You've got a 75 pound pack on your back. Then you've got an M1 rifle, you've got hand grenades strapped around your neck, criss-crossed, and, you also got a belt around your waist that's full of ammunition"
After crawling on his belly across the beach, he finally made it to the cliffs where they dug foxholes. There they waited.
"I remember we were close enough to Germans sometimes at night, now they'd have head count, and I could hear them calling these people's names, that's how close we were."
Boyd spent his 21st birthday in a foxhole. He recalls that his good friend Arthur Hunter crawled out of his foxhole to come wish him happy birthday. Boyd was touched, but wished his friend hadn't been so reckless. That was the last time he saw him.
These are the kinds of stories that Boyd and Combs will re-live when they visit Normandy this weekend, receive honors, and meet presidents and prime ministers. Combs will give a short speech where he plans to remind Americans of why it's important to remember not just this D-Day, but all days of sacrifice in war:
"We had other D-Days. The D-Day on Iwo Jima, the D Day on Tarwa where we lost so many young American boys, and we need to perpetuate these memories for future generations"
From the KUHF NewsLab, I'm Melissa Galvez