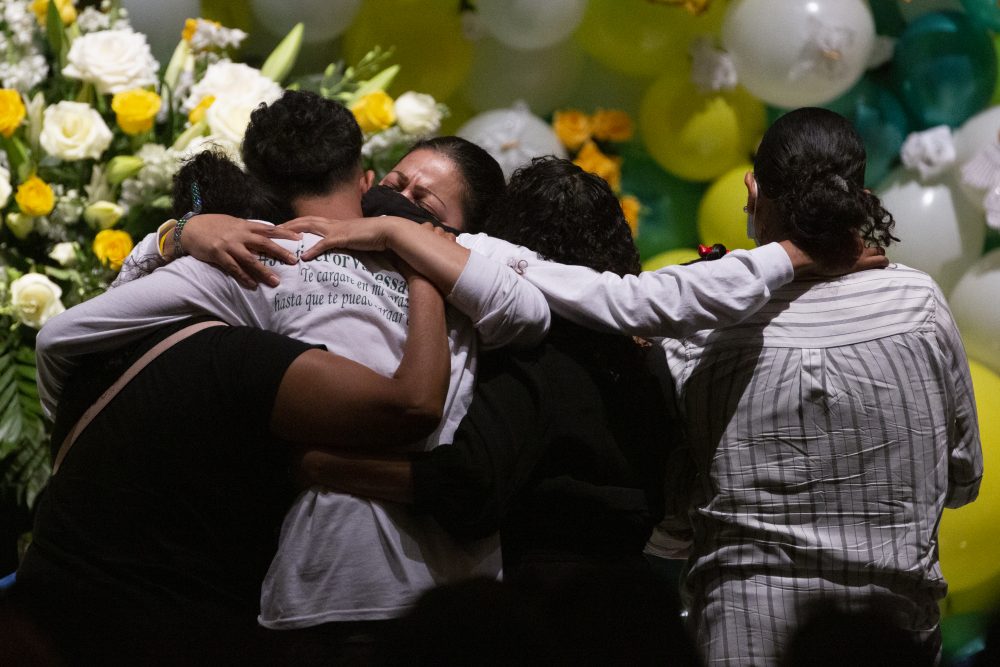 Updated 8:56 p.m. CT Friday
More than three months after the death of Vanessa Guillén, the former Fort Hood soldier will be laid to rest this weekend after a memorial in Houston Friday.
Cesar Espinosa, executive director of FIEL Houston, an immigrant rights group that helped organize the public memorial, called Guillén's death "a shock" to the community.
"It's obviously been a deep, profound impact that we've felt just because she was one of our own," Espinosa said. "She was a student that went to Chávez High School, and then wanted to join the military to give back to her country. And it is tragic that she died in the manner that she did. And it's tragic that this even had to happen."
Espinosa said the family has helped turn the tragedy into an organizing effort to get justice for Guillén and "all the other people that have suffered injustices in the U.S. military."
"There really is a sense of people wanting to come together and be there for the family and grieve together, but at the same time, follow that up with what happens next," Espinosa said. "We want to make it very clear that even though we are laying Vanessa down to rest, this does not mean that the movement is over, but rather it's part of the process."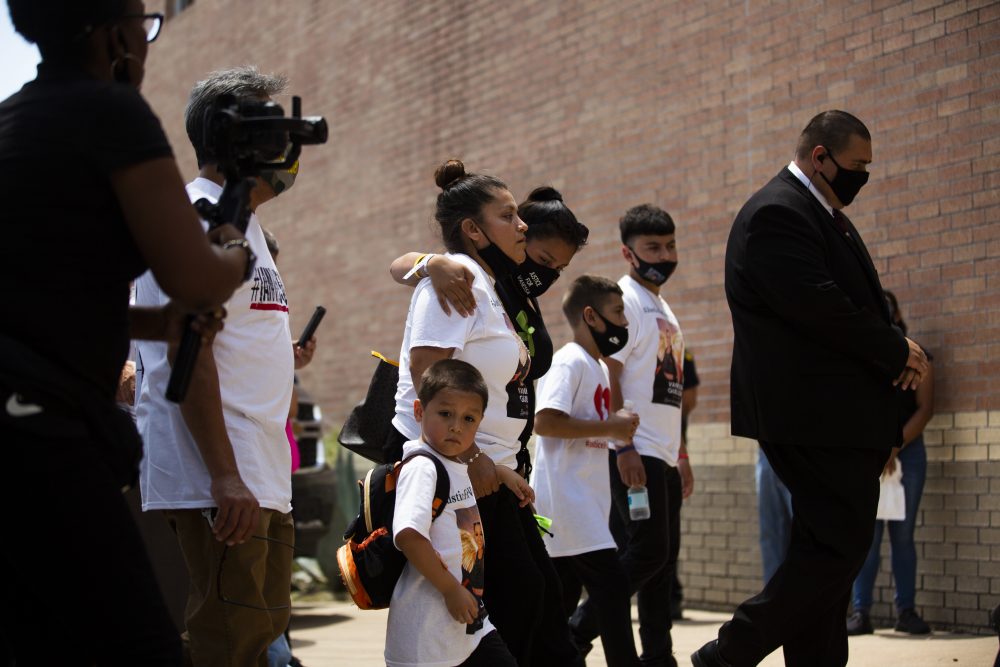 The public service at César E. Chávez High School, where Guillén once attended, began noon Friday and ran through 8 p.m.
Mourners lined up before noon Friday to pay their respects, as Guillén was ushered to the high school in a white horse-drawn carriage.
In the auditorium of the high school she attended, she was celebrated as a hard worker who wanted to serve her country since she was a kid, and a dedicated athlete who played multiple sports and especially loved soccer.
For Matthew Longoria, 22, Guillén's death hits close to home: he graduated from Chávez High School in 2016, and has family on military active duty. He said it was necessary to show up and support the family as a community.
"I really wanted to come, to make sure to pay my respects and to make sure that (Guillén's family) know that they have the community behind them," Longoria said. "And it's not just something that's temporary. It's not just a hashtag. It's something that we're going to continually try to fight to make a difference."
While the memorial struck a somber tone inside the school, many mourners outside took time to celebrate Guillén's life. Some held colorful signs in her honor, while others set up makeshift memorials. One truck with an Alabama license plate drove up to the school with photos of Guillén in its windows, and a decal that read "#IAmVanessaGuillén" in the colors of the Mexican flag. Several members of Guillén's family from Mexico were granted humanitarian visas to attend the service, according to U.S. Rep. Sylvia Garcia.
"I feel like, even though I didn't know her personally, I feel like she's grown as being a part of my family," said Angie Cruz, 63. "And I'm sure it goes with everybody here. That's why they're here."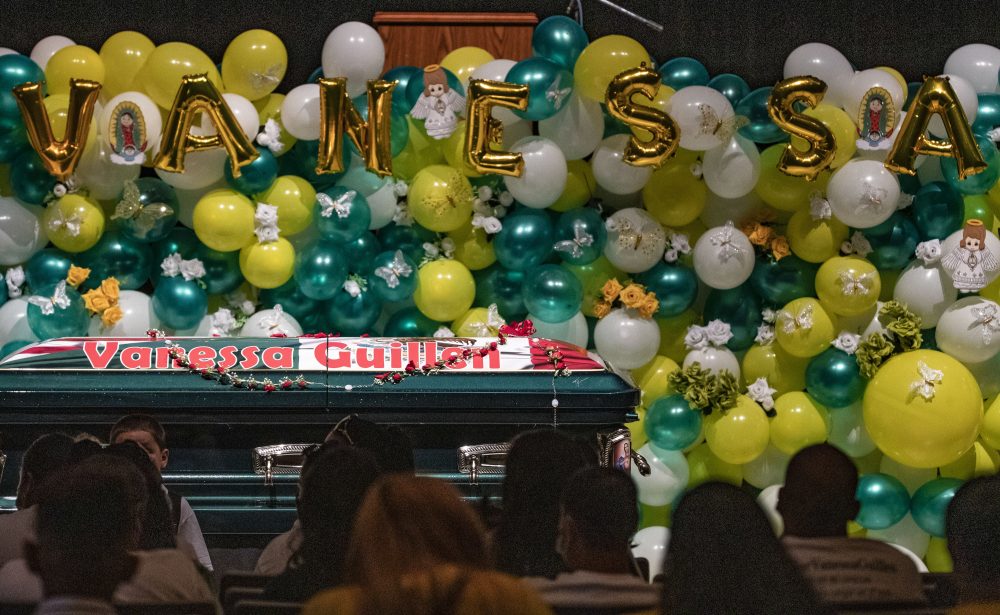 People from across the state of Texas made the trip to Houston to pay their respects. Amparo Balderas, from San Antonio, retired as a U.S. Navy Chief on July 31, after 20 years of service. She wore her dress blues uniform, for what she said would likely be the last time, Friday morning.
She and Guillén had a lot in common and both experienced some form of sexual harassment in the military, something Balderas said is commonplace.
"I hope it doesn't take years to get a new system in place and we've been past due for a new system to help our service members both males and females," said Balderas.
She and about a dozen other people met at a gas station in San Antonio throughout the morning. They formed up in a caravan of cars to drive to Houston to take part in the public memorial service.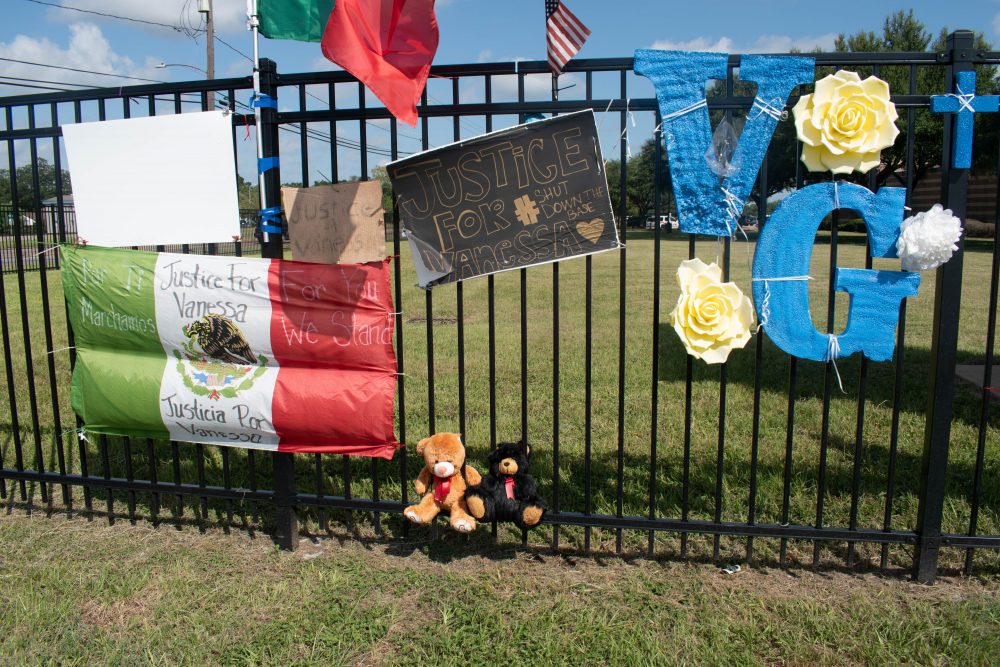 Guillén, 20, went missing from Fort Hood on April 22, sparking national attention. She was officially missing until July 6, when Army officials confirmed they had found her remains. Guillén was allegedly killed by a fellow soldier, who later died by suicide.
A federal affidavit later alleged Spc. Aaron David Robinson, 20, killed Guillén with a hammer and later burned her body. Cecily Aguilar, a 22-year-old civilian, allegedly helped dispose of the body, and was later charged in federal court with conspiracy to destroy evidence. She pleaded not guilty.
The investigation into Guillén's death is ongoing.
Fort Hood has one of the highest rates of murder, sexual assault and harassment in the Army, according to Secretary Ryan McCarthy.
Before her death the army specialist told her family she was experiencing sexual harassment on base, and many are now pushing for legislation to change the way sexual assault is handled in the military. And many people at Friday's public service called for change at the embattled Army post.
Jordan Johnson, who graduated Chávez High School in 2018, said he believed Guillén's death could help shine a light on Fort Hood's dark history.
"There's lots of injustice, there's lots of coverups and it's a really tough place to exist as a minority, as a woman, as anybody in America, period," Johnson said. "This is also an opportunity to bring attention to Fort Hood, because this has been going on for a long time predecing Vanessa, and it might continue afterwards."
Houston Public Media interns David Keeling and Maria Mendoza contributed to this report.