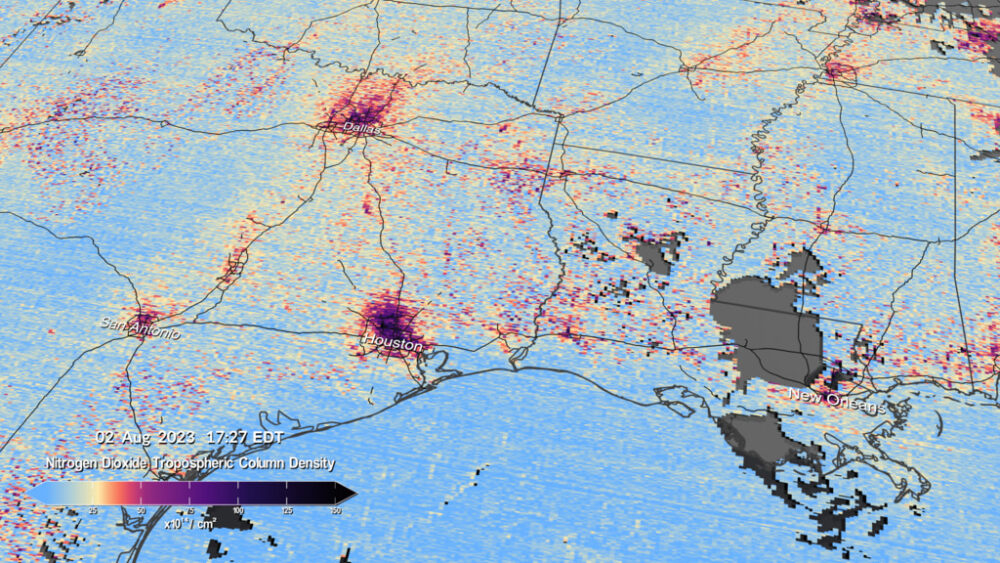 Officials at NASA say they are encouraged by the first data maps generated by the agency's new pollution-monitoring instrument in space, even if the information paints a discouraging picture of life on Earth.
Concentrations of nitrogen dioxide, a toxic gas produced by burning fossil fuels, were detected above Houston and other major cities in the U.S. – including Dallas, Los Angeles, New York and Washington D.C. – during the daytime hours of Wednesday, Aug. 2. That's when researchers at NASA and the Smithsonian Astrophysical Observatory made six hourly scans with an orbiting instrument called "TEMPO," an acronym for Tropospheric Emissions: Monitoring of Pollution.
The first set of data maps produced by the instrument were released last week by NASA, which bills TEMPO as the "first space-based instrument designed to continuously measure air quality above North America with the resolution of a few square miles." It is being tested and calibrated with the goal of launching full operations in October, according to a news release by NASA, which said the data gathered will be used to study the health impacts of pollutants and inform policies devised by organizations such as the Environmental Protection Agency and National Oceanic and Atmospheric Administration.
NASA program scientist Barry Lefer said the new tool and its applications are "really exciting," although he acknowledged that it revealed "unhealthy" levels of nitrogen dioxide in the aforementioned cities.
"We've known that the major cities in the United States, cities with more than 1 million people, have high levels of (nitrogen dioxide). It's a product of combustion," Lefer said. "... That's a concern. (Nitrogen dioxide) gets turned into ozone. It also can play a role in making fine particulate matter."
Lefer said existing satellites have been able to measure air quality in the U.S. for the last two decades, although they did so only once per day, and they have shown an overall reduction in nitrogen dioxide levels over that time span. The TEMPO instrument measures air quality multiple times per day, which allows scientists to track spikes in gas levels as well as their movements.
The TEMPO instrument operates from 22,000 miles above the equator and uses a spectrometer to detect pollution within sunlight, which is absorbed by gases in the atmosphere, by measuring sunlight that is reflected and scattered off the Earth's atmosphere, clouds and surface. It cost about $90 million to build, according to Lefer, and was launched into orbit in April with a SpaceX Falcon 9 rocket.
In addition to nitrogen dioxide, which in high concentrations can cause respiratory irritation and lead to conditions such as asthma, TEMPO also measures aerosols, formaldehyde, ozone, water vapor and trace gasses. Lefer said NASA in the coming months plans to make the data it collects available to the public in real time.
TEMPO's initial mission is for a period of 20 months, according to a NASA spokesperson, although its use is expected to continue well beyond that time frame.
"Neighborhoods and communities across the country will benefit from TEMPO's game-changing data for decades to come," NASA administrator Bill Nelson said in a news release. "This summer, millions of Americans felt firsthand the effect of smoke from forest fires on our health. NASA and the Biden-Harris administration are committed to making it easier for everyday Americans and decisionmakers to access and use TEMPO data to monitor and improve the quality of the air we breathe, benefitting life here on Earth."