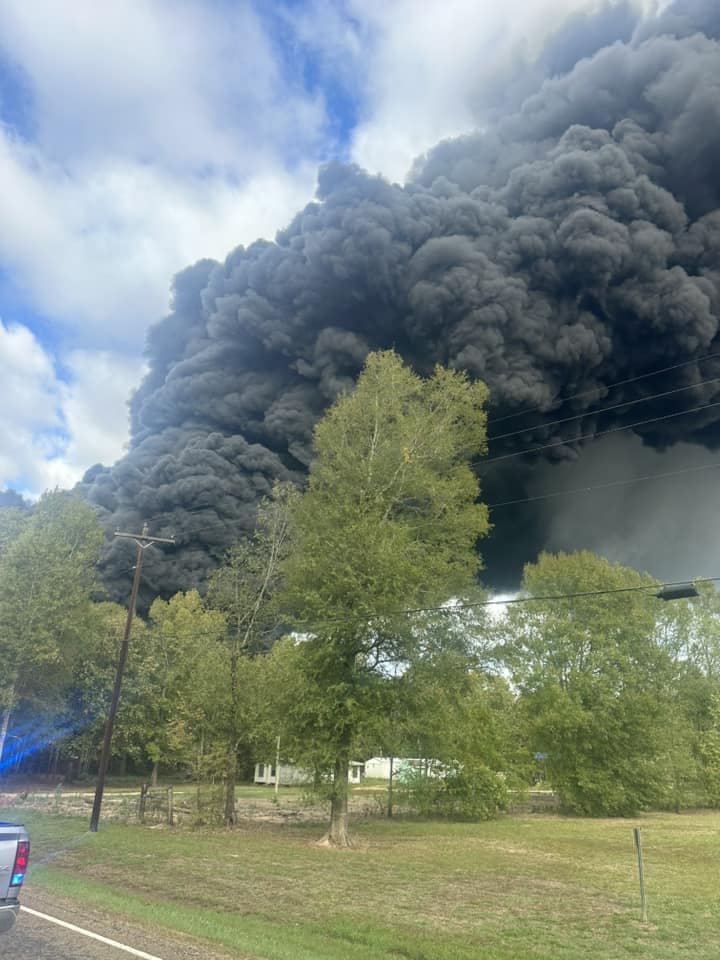 A massive fire at a petroleum processing plant northeast of Houston has been contained after an apparent forklift accident caused an explosion at the facility Wednesday morning, officials said.
The fire erupted around 8 a.m. Wednesday at Sound Resource Solutions, a 22-acre petroleum processing plant along FM 1127 in San Jacinto County near Shepherd.
The San Jacinto County Office of Emergency Management issued a shelter-in-place within a one-mile radius of the fire and officials are encouraging nearby businesses and residents to turn off their HVAC systems in their homes and buildings. By 1 p.m. Wednesday, Highway 59 was closed from FM 1988 to Exit 451B.
According to San Jacinto County officials, 19 employees were working in the facility at the time of the explosion and have since been evacuated. One employee was reportedly injured with minor burns during the forklift accident and is currently being treated.
During a press conference Wednesday morning, San Jacinto County Sheriff Greg Capers said they had to evacuate 31 students from a private school called Wildwood Academy, which is located just down the road from the chemical plant.
"We had to evacuate them through a pasture," Capers said. "A man owns a large piece of property over there and they were gracious enough to open the gates and allow these vehicles to traverse his land."
Capers added that it appears the flames were being fueled by flammable liquids like diesel and turpentine.
Officials have since declared all of Shepherd ISD safe from the chemical plant fire, according to the district. At this time, the district said they would not be releasing students early Wednesday.
"At this time, all of our students are safe," according to the school district. "We are in contact with local officials and first responders. We will provide updates as we receive them."
According to Sound Resource Solutions' website, the facility manufactures a variety products, such as windshield fluid, tank wash solvents, diesel substitute and hand sanitizer. The facility also provides "industrial chemical and raw material distribution," including the follow chemicals:
Sulfuric Acid
Acetic Acid
Phosphoric Acid
Acetone
Xylene
Methanol
The facility has remained in compliance with federal environmental standards since opening in 2013, with no identified violations during multiple inspections by the Environmental Protection Agency.
During Wednesday morning's press conference, Geoff Harfield, the president of Sound Resource Solutions, promised full cooperation with local law enforcement during the upcoming investigation regarding what exactly caused the explosion.
"We've always just wanted to be a positive part of the community," Harfield said. "Moving forward, we're going to do everything that we can to make sure that anyone who has questions, anyone who wants to know what happened, what's going on — we wanna be open."
As of now, the exact cause of the explosion is still unknown.
This is a developing story.
MORE: Lucio Vasquez and Jennifer Hadayia of Air Alliance Houston discuss this story on Houston Matters