The Pasadena Police Department is searching for a man it calls a person of interest in the murder and sexual assault of an 11-year-old girl last weekend.
Juan Carlos Garcia-Rodriguez, 18, is wanted for questioning, according to Pasadena Police Chief Josh Bruegger. He said Friday that Garcia-Rodriguez had been living in the same apartment complex as Maria Gonzalez, the girl who was found dead last Saturday underneath a bed in her apartment – her body wrapped in a trash bag that was placed inside a laundry hamper.
"He was last seen at the apartment complex at 4 p.m. Monday," Bruegger said of Garcia-Rodriguez. "His whereabouts are not known."
Gonzalez had been home alone while her father, Carmelo Gonzalez, went to work last Saturday, sending him a text message within 30 minutes after he left that someone was knocking on the door of their apartment at 1004 Main St. in Pasadena, according to Bruegger. The girl's aunt and uncle who also live in the complex went to check on her a few hours later but could not find her, Bruegger said, and she was discovered by her father when he returned home at about 3 p.m.
Maria Gonzalez died from asphyxia caused by strangulation as well as blunt force trauma to the head and neck, according to the Harris County medical examiner's office. She also had been sexually assaulted, Bruegger said.
The girl's father was not considered a suspect because he had an alibi, according to Bruegger, who said detectives have questioned all the employees at the apartment complex and do not believe any of them were involved in her death.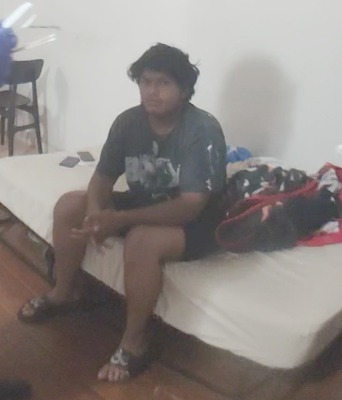 Detectives questioned several neighbors on Saturday, including Garcia-Rodriguez, who gave police a DNA sample, according to Bruegger. He said the sample was still being processed by the medical examiner's office to see if it matched DNA found at the scene of the murder.
Bruegger said detectives also found a key inside the Gonzalez family's apartment. At some point after Garcia-Rodriguez left the complex on Monday afternoon, police discovered the key matched the apartment where he had been staying for the last few weeks along with two roommates, Bruegger said.
"The key is really one of the key pieces, plus some of the other witness statements that we have as far as his location and whereabouts," Bruegger said. "The other two roommates still have their key."
Garcia-Rodriguez is originally from Guatemala like Maria Gonzalez, her father and several other residents at the Main Village Apartments, according to Bruegger, who said Garcia-Rodriguez entered the United States in El Paso in January and subsequently lived in the Baton Rouge, Louisiana area before recently relocating to Pasadena. Bruegger said federal authorities have been informed of the search for Garcia-Rodriguez and will know if he tries to leave the U.S.
No criminal charges had been filed against Garcia-Rodriguez as of Friday, according to Bruegger, who said Garcia-Rodriguez does not appear to have a criminal history in the U.S. But he said he considers Garcia-Rodriguez to be dangerous.
Anyone with information about the murder or Garcia-Rodriguez's whereabouts is asked to call Crime Stoppers of Houston at 713-222-8477.
"We're doing everything we absolutely can to bring whoever (did this) to justice," Bruegger said. "This is a horrific crime."