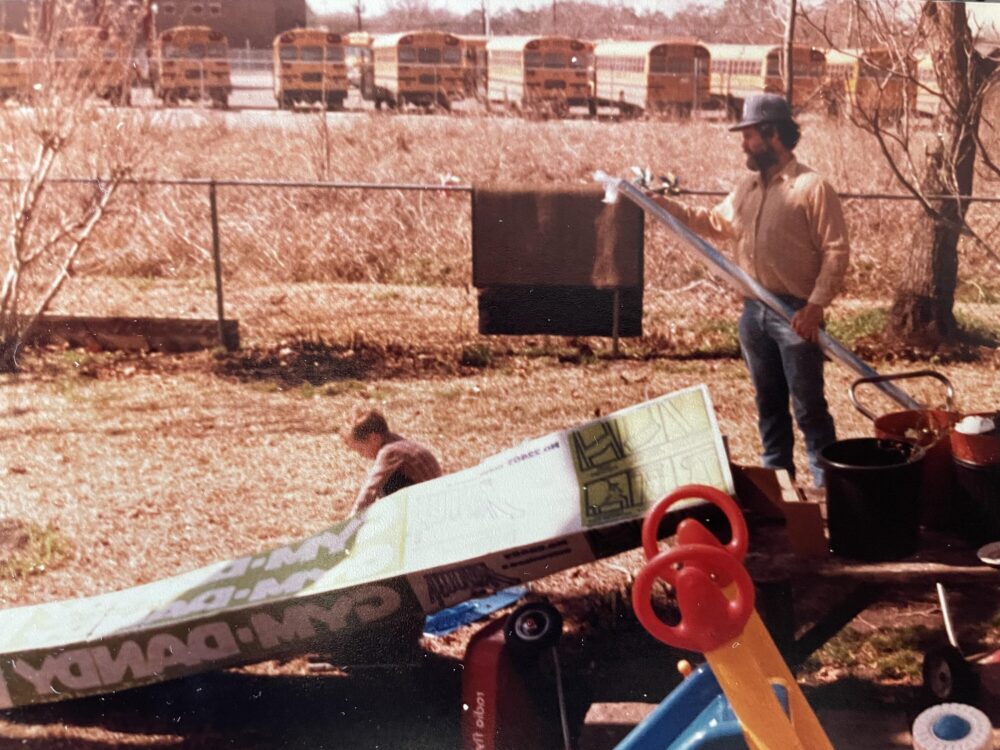 Travis Upchurch has lived the majority of his life at 1810 Aldine Meadows Rd., and that's where he wants to stay until he dies.
The 1-acre property has been home to Upchurch's family for more than a century, according to his son, who said his 78-year-old father has lived there for 46 years. It's where the elder Upchurch raised his children and cared for his wife until she died from a rare form of cancer in 2017. It's also where he picks pecans from trees that were planted by his grandparents, which he gifts to friends and family around the holidays and uses to bake pecan pies.
But Aldine ISD likes the property, too, and it has taken steps to acquire it through eminent domain. The Houston-area school district owns all the surrounding land on that side of Aldine Meadows Road, including a football stadium immediately to the west. W.W. Thorne Stadium is being rebuilt as part of a $50 million project, and Aldine ISD's plan is to use Upchurch's property for parking, according to his son, whose first name also is Travis.
"Hopefully we can still negotiate with them and reach some sort of agreement," the younger Upchurch said Wednesday. "The main goal is for my father to stay on that property until he's no longer able to or until he passes away, which is what his intention is. We're OK with the school district having it once he's done with it."
The younger Upchurch and his sister expressed that sentiment to the Aldine ISD school board at Tuesday night's meeting. He said the trustees seemed receptive and understanding, but they already had voted three months beforehand to pursue eminent domain actions against his father.
The district said in a statement that the elder Upchurch rejected its purchase offer in the spring of 2022, which led to school board members' decision this April to pursue eminent domain, a process through which a governmental entity can acquire private property for public use while providing compensation for the land. Aldine ISD said it mailed another offer to Upchurch this week "as part of the first step in the eminent domain process."
That offer had not been received as of Wednesday afternoon, according to Upchurch's son.
"We recognize that these are very delicate conversations that balance community needs and individual needs," Aldine ISD also said in its statement. "It is our practice to purchase properties for district use at a fair and reasonable price before any eminent domain proceeding is initiated."
Aldine ISD also has initiated eminent domain actions to acquire a nearby property at the southeast corner of Aldine Meadows Road and Aldine Westfield Road, which is where the elder Upchurch's mother lived before she died, according to his son. The family is not pushing back against that proceeding, he said, because no one lives there.
All the land near that intersection, most of which is now owned by Aldine ISD and used to house athletic facilities, an educational center and a bus barn, among other things, was previously a dairy farm, according to the younger Upchurch. He said his family has long figured the school district would one day want their lots, too.
"It's sensible that they want those two lots, because it's right in the center of all the school district development," the younger Upchurch said. "I don't fault them for sensibly wanting it. They may not have known that a person lived on the property right next to the stadium."
The elder Upchurch's home intentionally appears secluded, his son said, because it is surrounded by vegetation. And while his ties to the property run deep, so do his family's ties to Aldine ISD.
The younger Upchurch said he, his sister and their father are all products of the school district, where his grandmother worked as an elementary cafeteria manager. His great-grandmother served as the first PTA president in Aldine ISD, he said.
So the family's hope is for mutual understanding and that a compromise can be reached. The younger Upchurch said his father, a retired carpenter, "loves Aldine" and also loves living in his longtime home.
His children are committed to honoring his wishes and helping to ensure he can stay there as long as he wants.
"The people I've talked to about it and the attorneys I've talked to about it, they said it's more a negotiation at this point in terms of what the compensation's going to be," the younger Upchurch said. "In terms of fighting it legally, I don't know. I hope we can reach some compromise with them without having to involve lawyers and courts and all that kind of stuff. We'd rather not do that. We've been in the community for over 100 years, my family has. Hopefully that allows them to communicate with us civilly."