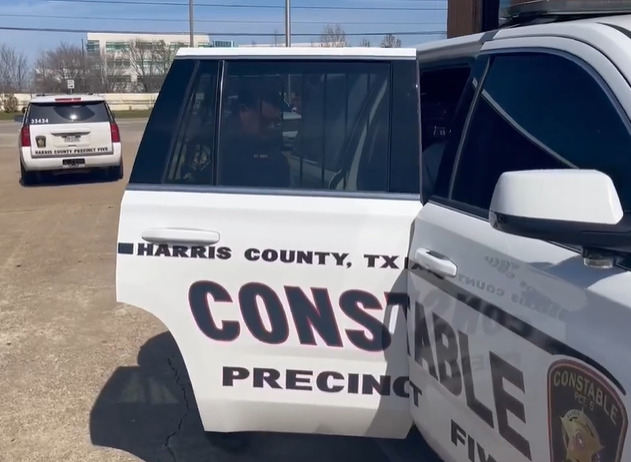 A Houston woman who allegedly left her two young children locked inside a hot vehicle that was turned off and had the windows rolled up – and then gave conflicting accounts to authorities as to why – is wanted for arrest on a felony charge of endangering a child.
Kennison McGrew, 30, is accused of leaving her 2-year-old and 9-month-old sons unattended for about 40 minutes while she went inside a Target store at 2700 Eldridge Pkwy., according to a charging document filed in Harris County court. The children were strapped in their car seats inside a 2019 black Jeep Cherokee and spotted by a bystander a little after 4 p.m. June 17, according to court documents, which show the bystander called authorities and responding police rescued the children by breaking the driver-side window.
"Upon entry, (a police officer) felt an intense heat coming from within the vehicle that was much hotter than the outside air temperature of 98 degrees," reads the charging document, which also says the children were placed in "imminent danger of physical impairment, bodily injury or death."
McGrew was charged with one count of endangering a child on June 30, nearly two weeks after the incident, and had not been arrested as of Monday, court records show. An attorney for McGrew was not listed in the online case record as of Monday.
Spokesperson Jeff McShan of the Harris County Precinct 5 Constable's Office, which responded to the scene, said the Harris County District Attorney's Office did not accept criminal charges at the time, pending further investigation. Authorities subsequently reviewed surveillance footage obtained from the Target and calculated that the temperature in the vehicle at the time would have been nearly 137 degrees, court documents show.
The children, who were sweating and hot to the touch but also breathing and conscious when they were rescued, were treated by paramedics at the scene, court records show. They were released back to their mother, according to McShan, who said the constable's office did so at the recommendation of Children's Protective Services (CPS).
"We called the DA and CPS. We felt we'd better cross our Ts and dot our Is before we let the kids go with her," McShan said. "She had no criminal history, she wasn't in the CPS system and the kids weren't in imminent danger or death now that they had been rescued. CPS told us to go ahead and release the kids back to momma."
Surveillance footage from Target showed McGrew allegedly left her kids inside the vehicle and went into the store at about 3:30 p.m. June 17, according to court records, which also show that another woman noticed the children inside the Jeep and called police shortly after 4 p.m. Police responded and broke into the vehicle at about 4:10 p.m., after which the rescued children began receiving treatment from paramedics, and McGrew left the store and returned to her vehicle at about 4:20 p.m., court documents show.
"(McGrew) gave two different stories to (police) about what happened," the charging document reads. "(McGrew) first said that she thought she left the car engine running when she left her children alone and unsupervised in the car. (McGrew) then stated that her children were asleep and quiet when she arrived in the parking lot and that she forgot they were in the backseat."
By inputting a series of known factors about the incident into a "Hot Car Calculator" – the outside temperature, the fact it was a sunny day in Houston and the fact it was a dark-colored vehicle with the windows rolled up – police determined that the temperature inside the Jeep would have been 136.9 degrees after a period of 40 minutes, court documents show.
"The calculator also indicated that after 40 minutes, the internal body temperature of a human would rise to 102.2 degrees Fahrenheit, and one could expect severe sweating, increased heart rate, and children with epilepsy may begin to convulse," the charging document reads. "After only 20 minutes, one could expect to see effects of hyperthermia."
At least one person in the Houston area has died because of a prolonged heat wave which has seen daily high temperatures near or above 100 degrees for nearly three weeks. Felipe Pascual, 46, died June 16 from hyperthermia after collapsing while working an outdoor construction job in Fort Bend County, according to the Galveston County Medical Examiner's Office.
A Houston police dog named Aron died June 12 from heat exhaustion after being left in a patrol vehicle, according to the Houston Police Department.